Introduction
As described in a recent article at Techtarget.com (click here for the article), "SAP HANA (High-performance ANalytic Appliance) is a multi-model database that stores data in its memory instead of keeping it on a disk. This results in data processing that is magnitudes faster than that of disk-based data systems, allowing for advanced, real-time analytics… S/4HANA was designed to make ERP more modern, faster and easier to use through a simplified data model, lean architecture and a new user experience built on the tile-based SAP Fiori UX. S/4HANA includes or is integrated with a number of advanced technologies, including AI, machine learning, and advanced analytics. The SAP HANA in-memory database architecture and the integration of advanced technologies allow S/4HANA to help solve complex problems in real time and analyze more information faster than previous SAP ERP products."  In other words, it is a major change to the underlying ERP software of SAP, and while it can deliver great benefit to the entire enterprise, it is a significant challenge to implement.
iPolling Results Review
A recent Peeriosity poll created by the Director of Process Improvement at a member company asked about other companies' experiences and plans regarding SAP S/4HANA.  In their words, "Our company will be upgrading our SAP system to S/4HANA which is a more current version of SAP. We are interested to learn if other companies have upgraded and the overall level of satisfaction with their SAP system."  Using Peeriosity's Polling capabilities, the member was able to quickly get insight from many leading companies, with the ability to follow up directly with peers for additional discussion as needed.
The first of two poll questions asked about the status at the company in upgrading their SAP platform to SAP S/4HANA.  While 21% indicated they have implemented, most companies, at 65% have approved the upgrade but have not yet implemented.  The remaining 14% haven't decided yet, and no one selected the option to suggest they haven't considered doing so.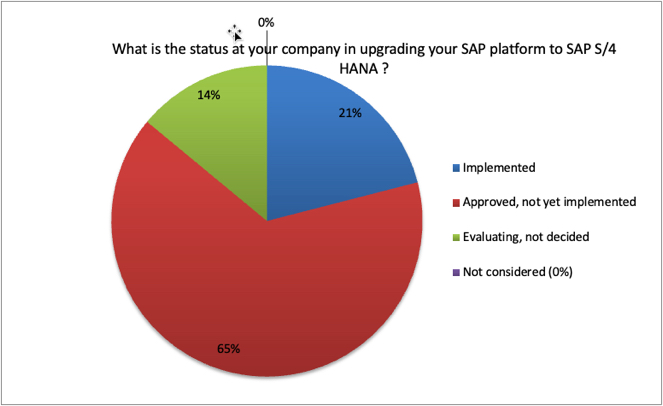 The next polling question asked about the level of satisfaction Peeriosity member companies have with their current SAP system.  Overall satisfaction levels are high, with 57% indicating they are satisfied, and an additional 7% indicating they are very satisfied.  The balance of 36% indicated they were neutral with no responses of unsatisfied.  Here are the details: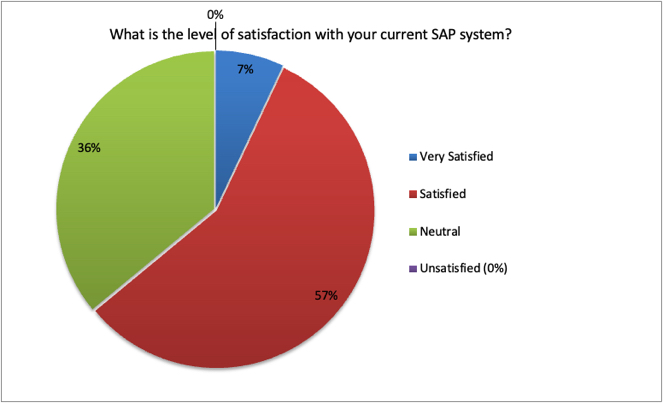 A few of the comments from members include:
It may be on business's future roadmap. We were recently acquired, so unsure of what integration and migrations will bring.

Implemented in one region (MX) before we go to a full implementation.

S/4HANA pilot implemented, global expansion underway.
We are going live with just Finance on 05/01/23.
We are implementing S/4 in phases and have only gone live with one geo so far. Too soon to talk about satisfaction overall, but the goal will be to apply lessons learned from the first phase as we move on to future phases that support other geographies.
We did the upgrade but are for sure not using all the new functionalities that come with it. We have to get into it. Technical upgrade went well though.
We are in process; central finance has moved, and we are working on the supply chain boxes. This is a multiyear effort for us to complete and we are focused on implementation vs. optimization.
I indicated our level of satisfaction with current SAP (ECC6) as Neutral. SAP could certainly be more accommodating to our needs however many of our pains are self-inflicted.
Closing Summary
With SAP the system of choice for many Peeriosity members, it's no surprise that SAP S/4HANNA is a high priority.  For most companies the transition is a multi-year effort that will consume significant resources for both the implementation and getting processes ready to take advantage of the new capabilities.  Fortunately, Peeriosity members are able to ask questions and develop their network of trusted peers, allowing them to gather insights and lessons learned from a cross-section of peers who are facing a similar challenge.
If your company is on SAP, what are you plans for implementing S/4HANA?  With a project that is a game-changer, what are your priorities and how prepared is your organization to optimize the new capabilities?
Who are your peers and how are you collaborating with them?
________________________________________________________________________
 "iPolling" is available exclusively to Peeriosity member company employees, with consultants or vendors prohibited from participating or accessing content. Members have full visibility to all respondents and their comments. Using Peeriosity's integrated email system, Peer Mail, members can easily communicate at any time with others who participated in iPolling.
Peeriosity members are invited to log into www.peeriosity.com to join the discussion and connect with Peers.   Membership is for practitioners only, with no consultants or vendors permitted.  To learn more about Peeriosity, click here.