Introduction of Lifecycle Maturity
Shared Services as an operating model has been in existence for decades and, today is widely embraced by large global companies.  Even though many companies have extensive experience, even leading companies to continue to make changes to their designs and take advantage of new opportunities to drive process improvement and business process transformation.  As companies move along the maturity curve, priorities will shift from stabilizing systems and processes to the expansion and growth of governance models, technology, processes, and customer experiences.  The most mature have achieved an advanced level with a broad scope, and a cutting-edge governance model, using leading technology solutions, processes, and sophisticated approaches to customer and employee engagement.
iPollingTM Results Review
Peeriosity's iPollingTM was recently used to learn more about Peeriosity member companies' Shared Services lifecycle.  The results indicate that 34% are either advanced or mature, with very stable ongoing efforts in place to improve governance models, technology, processes, and the customer/employee experience.  The largest block of companies at 55% are fully operational, with a stable organization and with room to grow across all dimensions, with the balance of 11% indicating that they are new and emerging, in the earlier lifecycle stages and on a steep learning curve.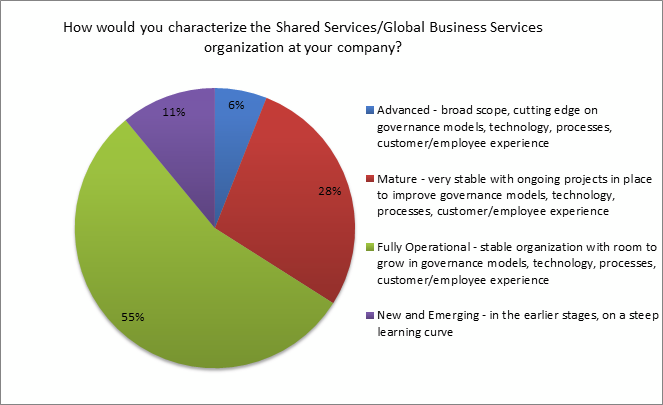 The poll also asked which areas member companies Shared Services/Global Business Services organization need to most focus on in order to move to the next level of lifecycle maturity.  The top four areas cited were scope expansion (27%), process standardization/improvement (21%), technology (21%), and governance models (16%), with areas like customer experience and partnering/outsourcing cited less frequently as most important.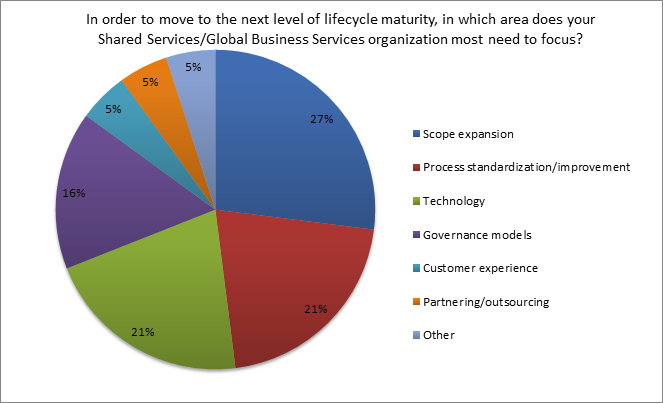 Here are some of the comments from members:
All levers are necessary, but AI/Machine Learning and other advancements (along with higher skilled employees) are necessary for the future.
Also need to focus on process standardization/improvement and scope expansion, along with the rest, but technology is the key enabler to move all these levers to the next level.
Closing Summary
In the world of Shared Services/Global Business Services, Peeriosity members are represented at every level of maturity, from new and emerging, to fully operational, mature, and advanced.  No matter where your company is on the maturity curve, there is always room for improvement with ways to accelerate your transition to the next level by leveraging the experience and wisdom of your peers.  Members who are new and emerging have the greatest opportunity to improve, and they also face the greatest risk as they work to stabilize processes and gain acceptance with customers and senior leadership.
At Peeriosity, the categories of fully operational and mature represent 83% of the membership. That is great news for members because these companies are most likely to be engaged in significant change efforts across all dimensions, including governance, technology, process design, and customer/employee experience.
Where is your Shared Services/Global Business Services organization on the maturity lifecycle?  Where do you need to focus the most to move to the next level?
Who are your peers and how are you collaborating with them?
______________________________________________________________________________
"iPollingTM" is available exclusively to Peeriosity member company employees, with consultants or vendors prohibited from participating or accessing content. Members have full visibility of all respondents and their comments. Using Peeriosity's integrated email system, Peer MailTM, members can easily communicate at any time with others who participated in iPolling.
Peeriosity members are invited to log into www.peeriosity.com to join the discussion and connect with Peers.   Membership is for practitioners only, with no consultants or vendors permitted.  To learn more about Peeriosity, click here.