Introduction
While individual process areas often have very detailed performance measurements related to cost, productivity, quality, and customer service, many times the overall Shared Services operation struggle to present its overall results in a concise and effective manner.  The challenge for any Shared Services or Global Business Services organization is to develop and maintain a cohesive reporting package that meets both the needs of the Shared Services organization and its key customers and remains relevant as the business evolves.
It has been clearly demonstrated that having effective Key Performance Indicators (KPIs) for processes within shared services has many benefits including process management, process improvement, and the ability to communicate clearly with customers.
iPollingTM Results Review
Peeriosity's iPollingTM was used to learn more about Peeriosity member companies' emphasis on formal KPIs and the overall satisfaction members have with the KPIs that are in place.  The results suggest that effective KPIs are a high priority, with all companies reporting that they have completed a major review and update of their KPIs within the past two years, and 57% reporting that a major review and update has taken place within the past six months.  Here are the details: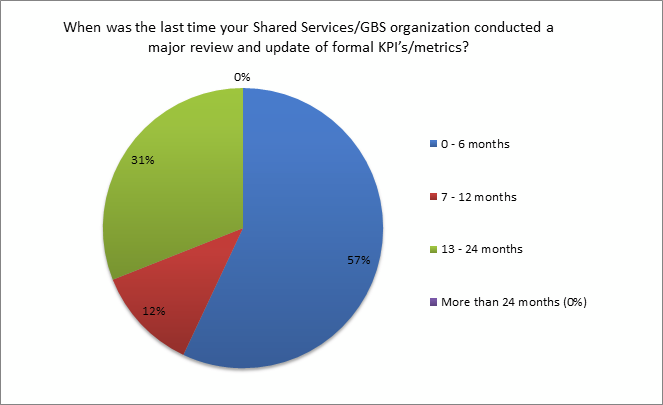 The frequency for completing a major review and update makes more sense when you look at the overall satisfaction Peeriosity member companies have with their KPIs.  51% indicate they are "satisfied – they are a help but we continue to work on them to try and increase the benefit", with 11% indicating that they are "very satisfied".  At the other end of the spectrum, 21% indicate that they have "limited satisfaction – we have metrics but benefits are unclear or limited". 
When you look more closely to match who is reviewing KPIs more quickly, not surprisingly, companies with limited satisfaction are the most likely to have a longer period of time since their last major review and update, and companies that are the most satisfied with their formal KPI's/metrics are more likely to have reviewed and updated in the last 6 months by a ratio of 5:1.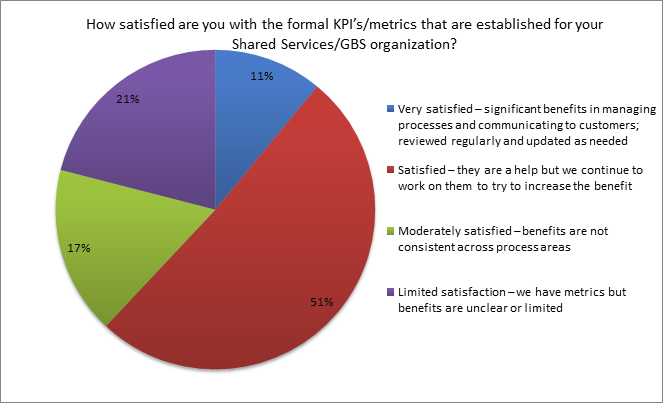 Here are some of the comments from members:
We are in the process of doing an evaluation now. We just finished a global SAP implementation so we will need different KPIs for our SSCs.
More benchmarking would be helpful in H2R KPIs – less progress has been made here.
We are in the middle of reviewing and updating our metrics now.
Key initiatives happening in our company in the next couple of years will require a review of all metrics/KPIs. Until then we will only make minor changes to them.
While we review the metrics throughout the year, we try to limit official changes to the start of the fiscal year (July).
We are evaluating an update to existing KPIs/metrics.
Closing Summary
In the words of management consultant Peter Drucker, "What's measured improves".  Shared Services and Global Business Services organizations with an emphasis on KPI's/metrics are more likely to see benefits from their measurement systems than those companies who have less of an emphasis on measurement. 
Peeriosity member companies all place an emphasis on KPIs with all member companies likely to have completed a major review and update of their formal KPI's/metrics within the past 2 years.   Even more impressive is the fact that companies who are the most satisfied with their formal KPI's/metrics are significantly more likely to have completed a major review and updated them within the past 6 months.  This strongly suggests that in addition to the many benefits available you measure,  you also need to continuously monitor to make sure your formal measurement process is optimized.
How effective is your Shared Services performance measurement program?  Is it updated frequently to ensure its continued relevance and effectiveness?
Who are your peers and how are you collaborating with them?
______________________________________________________________________________
"iPollingTM" is available exclusively to Peeriosity member company employees, with consultants or vendors prohibited from participating or accessing content. Members have full visibility of all respondents and their comments. Using Peeriosity's integrated email system, Peer MailTM, members can easily communicate at any time with others who participated in iPolling.
Peeriosity members are invited to log into www.peeriosity.com to join the discussion and connect with Peers.   Membership is for practitioners only, with no consultants or vendors permitted.  To learn more about Peeriosity, click here.