Introduction
Since launching the Intelligent Automation Research Area in 2017, Peeriosity has featured member experiences on Peercasts and engaged members in discussions using iPolling to flush out issues, with new activities happening every month.  Because Peeriosity interactions include only Peeriosity members, without consultants or vendors getting in the way, discussions have been candid with an emphasis on the "true story" of what works and what doesn't.  And, because Peeriosity maintains a 3-year history of content, current and new Peeriosity members can continue to leverage both ongoing discussions and a rich archive of research results and findings.
During the past 4 years, Peeriosity members have been busy developing their expertise in Intelligent Automation and guiding the implementation of hundreds of related projects.  Not surprisingly, because of the role that Shared Services (including Global Business Services and Integrated Business Services models) have taken to implement new technologies and drive improvements to underlying process designs; often with a focus on end-to-end process optimization, Shared Services is consistently either the primary leader, an equal partner or a critical source of resources to drive the implementation of automation technologies. 
iPollingTM Results Review
Peeriosity's iPollingTM was recently used to learn more about the role that Shared Services has played in driving Intelligent Automation efforts.   The first poll question asked members to characterize the role of Shared Services to drive Intelligent Automation efforts.  The results indicate that for 35% of Peeriosity member companies, Shared Services organizations are an important resource for Intelligent Automation expertise and solutions within Shared Services and in other areas as well.  An additional 35% go further, with Shared Services organizations either the primary leader for expertise and solutions across the company or are a co-leader with IT for expertise and solutions across the company.  Even for the remaining 30% of responses where the focus has largely been on processes within the scope of Shared Services, 17% indicate that Shared Services is the primary, with 13% who indicate that either IT is the primary leader (9%) or Shared Services is an important resource to IT (4%).  Here are the details: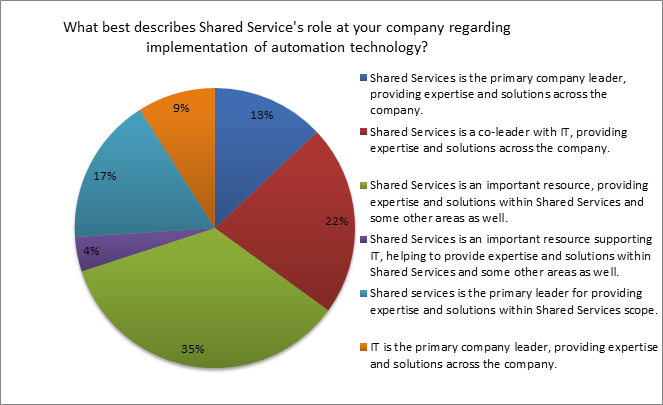 With regards to the idea of training Shared Services staff to develop automation (i.e., as citizen developers), 35% report that they have had success using citizen developers, with 26% who are getting started and think the idea of using citizen developers has potential.  The idea also has resistance, with 30% who prefer to use other resources for automation and 9% who have used citizen developers with mixed success.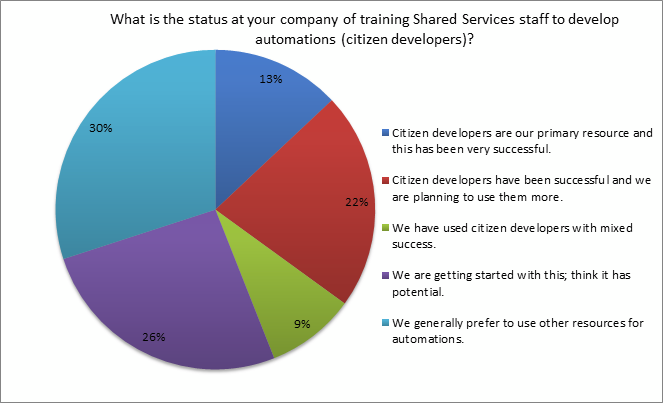 Here are some of the comments from members:
Citizen development has great potential but needs adequate governance in place to minimize rogue practices.
We started the RPA initiative in Shared Services, and while we are close partners with IT, we do lead this effort. To date, we have been primarily focused on our Shared Services organization but have recently implemented some automation in the broader organization. Unlike many companies, we started with unattended automation, developed by the COE, and did that for two-plus years before embarking in 2020 on the Citizen Developer program.
We are new to automation but are looking to expand the use of citizen developers.
Closing Summary
For Peeriosity member companies, Shared Services has played a significant role in leading the charge to source and implement Intelligent Automation solutions.  For many, the scope of projects where Shared Services has played a significant role also includes projects that are outside the scope of Shared Service processes.  The implementation of Intelligent Automation solutions is an excellent example of Shared Services being a true partner in the company, providing leadership where needed based on a unique appreciation of the opportunities at play.  Such a role can only be accomplished with the permission and trust of business partners.
What is the Shared Services' role at your company regarding the implementation of automation solutions?  Is the leadership role focused on Shared Services processes, or is expertise shared more broadly across the company?
Who are your peers and how are you collaborating with them?
______________________________________________________________________________
"iPollingTM" is available exclusively to Peeriosity member company employees, with consultants or vendors prohibited from participating or accessing content. Members have full visibility of all respondents and their comments. Using Peeriosity's integrated email system, Peer MailTM, members can easily communicate at any time with others who participated in iPolling.
Peeriosity members are invited to log into www.peeriosity.com to join the discussion and connect with Peers.   Membership is for practitioners only, with no consultants or vendors permitted.  To learn more about Peeriosity, click here.