Introduction
In the world of Global Shared Services, the emphasis on digital enablement is a very high priority for all Peeriosity member companies.  For Global Shared Services leaders, digital enablement efforts are focused on using digital transformation to automate processes, improve customer experiences, improve overall quality and accuracy, and generate new insights to assist business leaders.  In this effort, a spectrum of technologies, tools, and methods are used ranging from Robotic Process Automation, Data Transformation & Analytics, Data Visualization tools, Workflow tools, Document Collaboration, Intelligent Document Processing, Natural Language Processing, and Machine Learning, to Chatbots. The spectrum includes rules-based solutions to more cognitive approaches where systems learn through experience, with the ability to improve their performance beyond their programming.
iPollingTM Results Review
Peeriosity's iPollingTM was used to provide insight into Peeriosity member companies' interest in digital enablement as a current priority, and the primary goal for digital enablement for the Business Services organization.    The results were compelling, with 68% indicating that "digital is a very high priority, we have identified and continue to implement key technologies of interest" and the remaining 32% indicating that "digital is a very high priority, but we are in early stages".   No one selected options of "Yes, digital is one of our priorities, but not our main focus" or "No, digital is currently not a priority".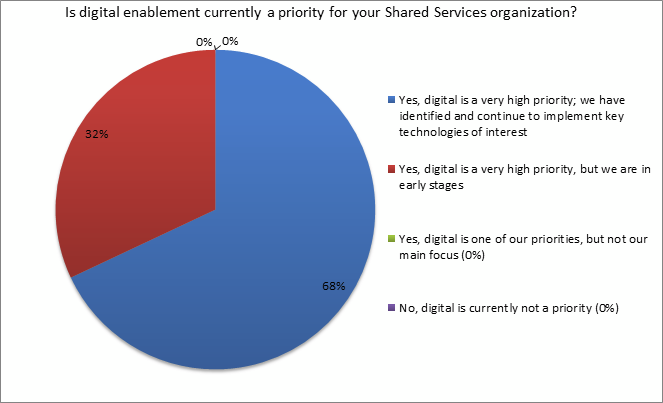 With regards to the primary goal for digital enablement, 54% indicated that the primary goal was to automate to eliminate manual tasks and reduce costs. Another 14% each selected the options of "Improved customer experience and satisfaction" and "General new insights to assist business leaders with key decision making".  While no one specifically selected "Improved quality and accuracy", that is partially captured with the 18% who selected "Hard to pick just one – all of the above".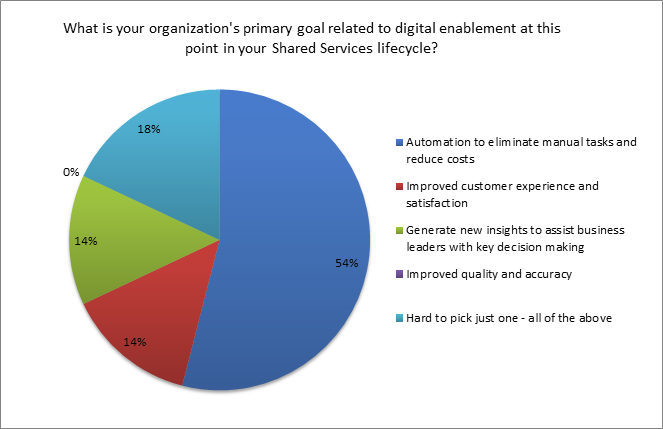 Here are some of the comments from members:
We are creating self-service options to improve the experiences and reduce human interactions/contacts.
While digitization is key in our organization – the key focus is to build automation without losing the human-kindness that makes it unique for each employee and each customer.
We actively pursue all these goals, essentially in the same order of priority as they are listed: Primary – Automation to eliminate manual tasks and reduce costs; Secondary – Improved quality and accuracy; Tertiary – Improved customer experience and satisfaction; and Other – Generate new insights to assist business leaders with key decision making.
We leverage digital for 'all the above.' With technology, we can approach work in a new, and holistic way, to gain more than cost reduction. A key watches out with tech is that the risk profile of the service changes and investments are needed to ensure the automation is working, is working as intended, has strong change management, and has appropriate break/fix resolution times.
In our endeavor to be customer-centric, we see digital as a key enabler.
All the options are applicable — improve efficiency, improve quality, generate insights, and improve customer experience.
Closing Summary
For large companies will global revenues of $5B and above, and with tens of thousands of employees, Global Business Services continues to evolve and change rapidly.  While the descriptions might vary by the company (e.g., Shared Services, Global Shared Services, Global Business Services, or Integrated Business Services), the emphasis on digital technologies to drive performance and achieve superior results is universal.  These efforts are expected to continue with increased emphasis and funding as available tools and approaches to leveraging them continue to achieve success.
What emphasis does your Global Shared Services organization place on digital optimization?  What are your primary objectives for your digital transformation efforts?  Where have you achieved success, and what are your current priorities?
Who are your peers and how are you collaborating with them?
______________________________________________________________________________
"iPollingTM" is available exclusively to Peeriosity member company employees, with consultants or vendors prohibited from participating or accessing content. Members have full visibility of all respondents and their comments. Using Peeriosity's integrated email system, Peer MailTM, members can easily communicate at any time with others who participated in iPolling.
Peeriosity members are invited to log into www.peeriosity.com to join the discussion and connect with Peers.   Membership is for practitioners only, with no consultants or vendors permitted.  To learn more about Peeriosity, click here.