Introduction
For Shared Services organizations around the world, the impact of the global pandemic was both immediate and dramatic, with the requirement to shift as much of the work activities from in-office to work-from-home, using a workforce and technology infrastructure that wasn't fully tested or ready for the location change.  Even those companies with robust contingency plans in place with formal testing protocols were challenged by the sudden shift in work requirements.  Creating secure connections from hundreds of separate locations wasn't an easy task, particularly when one requirement was to rely on Internet accessibility and connectivity speeds that varied significantly between each employee's home capabilities.
To better understand issues with Shared Services process controls and quality, and how technology plans might have been impacted because of the COVID pandemic, Peeriosity iPolling was used to get quick feedback from Peeriosity member companies.  Using iPolling, it is easy for Peeriosity members to draft an iPolling question and instantly find out how other members tackle the problem, with the ability to directly follow up with other participants for further discussion and dialogue.  With Peeriosity, your poll will go to hundreds of members for a possible response, with those that have knowledge providing inputs that are likely to be directly on point to solve your issue, all at no cost to you.  Plus, the exchange is completely private, with only members whose companies provided an answer to the poll questions able to access the detailed results and findings.
iPollingTM Results Review
The first of two questions in the poll asked about the status of Shared Services' process controls and quality during the COVID pandemic.  The results were impressive, with no responses to suggest that there was a negative impact of any kind.  87% of Peeriosity member companies responded that they were able to maintain process controls and overall quality, with basically no effect.  The remaining 13% of companies actually reported that they were able to make moderate improvements to process controls and overall quality.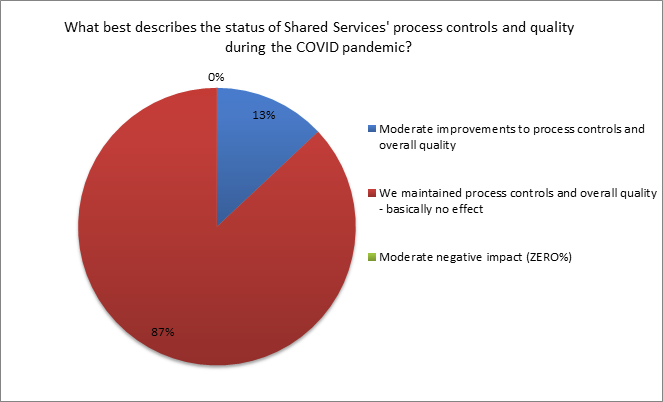 The second polling question asked about the status of Shared Services' technology plans during COVID.  62% of Peeriosity member companies reported that they continued to make progress on planned investments, with basically no effect because of COVID.  An additional 17% reported that they accelerated their technology investments, and the remaining 21% reported that they scaled back plans but still made progress.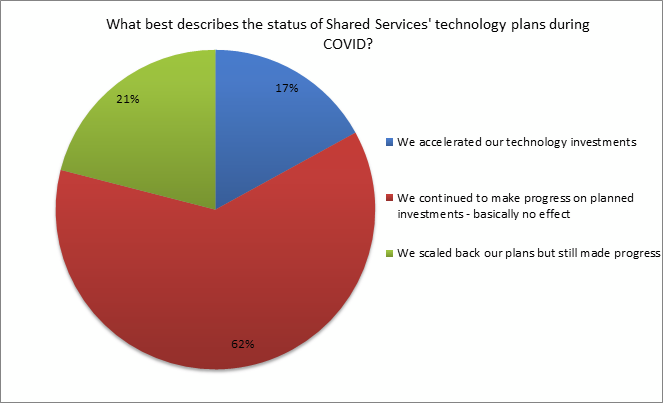 Here are some of the comments from responding companies:
I still worry about the lack of controls over data that can be assessed at home too easily. When in the office, I think the control over data is better. However, the quality of work in general I believe has improved–especially timeliness.
We were in the middle of a multi-year service delivery model revamp when COVID hit, so we continued with those efforts which included both people and technology.
As a result of travel restrictions, Covid delayed the implementation of some of our technology plans, but we have not had to scale back.
Closing Summary
While the impact of the COVID pandemic created many challenges for Shared Services organizations, being able to respond to those challenges successfully was the outcome achieved by the vast majority of Peeriosity member companies.  While a large collective sigh of relief is well deserved, for Peeriosity members there can be significant benefit from completing a thorough post-COVID review to better understand the lessons learned, both based on their own company's experiences, and based on wisdom and insights that are shared candidly by other Peeriosity members.
What impact did the COVID pandemic have on your company's Shared Services process controls and quality?  What surprised you and what did you learn?  Did you have any changes to your technology plans as a result of the pandemic?
Who are your peers and how are you collaborating with them?
______________________________________________________________________________
"iPolling" is available exclusively to Peeriosity member company employees, with consultants or vendors prohibited from participating or accessing content. Members have full visibility of all respondents and their comments. Using Peeriosity's integrated email system, Peer Mail, members can easily communicate at any time with others who participated in iPolling.
Peeriosity members are invited to log into www.peeriosity.com to join the discussion and connect with Peers.   Membership is for practitioners only, with no consultants or vendors permitted.  To learn more about Peeriosity, click here.