Introduction
Similar to the hype and buzz that surrounded BPO 20 years ago, today's Shared Services leaders can't avoid questions about approaches and strategies related to Intelligent Automation. Being able to filter through the hype and point to specific examples from peers is critical to being able to design an approach that is right for your company.  The good news is that many companies are making rapid progress, and through active collaboration with peers they are able to create a design that has a high probability of success, with the ability to fine-tune and adjust quickly as needed to ensure the best possible outcomes.  
iPollingTM Results Review
Recently, Peeriosity's iPollingTM was used to better understand the impact for Peeriosity members of using Intelligent Automation solutions and specifically by deploying Robotic Process Automation (RPA).  The results were overwhelming, with 75% of members indicating that RPA is an important technology that provides them with new tools to improve their operations.  An additional 20% reported that RPA is an interesting technology that they are beginning to leverage, with only 5% indicating the RPA is an interesting technology but so far, they have not been able to capitalize on the benefits.  Here are the details: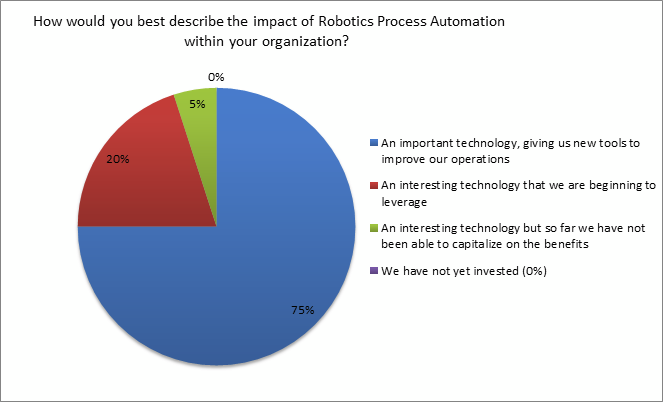 The second polling question asked about speed to implement, defined as the average amount of time it takes to get a bot into production once a project is approved.  While the results indicate a wide range, for 47% of Peeriosity members the average is between four and eight weeks, with an equal number of companies reporting either higher or lower average times.  Here are the details: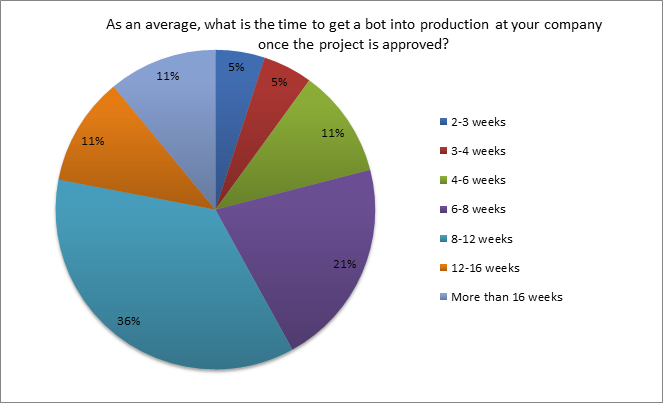 Here are several of the comments added by members:
Since we started with RPA, we have gone through some learning curves and hence initial deployments are a bit slower, but we hope to ramp those up going forward.
RPA is one of several technologies being leveraged to automate business processes in our organization. Timelines will vary based on process complexity and your customers' readiness (for example, whether there has there been a full process improvement assessment conducted with some changes already implemented). While 8-12 weeks on average is accurate, we do have projects that have taken 16+ weeks to complete due to high complexity, IT/Business constraints, SME availability, and/or change management efforts.
We have implemented over 100 robotic process automation in 2020 so far.
After 1 year we have implemented 15 bots. We plan to expand this further in 2021.
Averages can be misleading. Most of our medium-complexity automation is in production within 10 to 14 weeks from the official start date.  Automations that are highly complex, require client approval, or involve prioritization/development work by a core system team can be 16+ weeks in duration.
Closing Summary
When it comes to Intelligent Automation, separating fact from fiction, and knowing the detailed experiences of your peers is critical to achieving the best possible outcomes.  Fortunately, members of Peeriosity's Intelligent Automation best practice research community are well-positioned to understand and learn from the actual experiences of leading peers.  Based on actual Peeriosity member experiences (without any spin from vendors or consultants) the results are overwhelmingly positive, with 75% of members indicating that RPA is an important technology that provides them with new tools to improve their operations.   
What best describes the impact of RPA within your organization? How many bots do you have in production and what is the timeframe to implement once a project is approved?  
Who are your peers and how are you collaborating with them?
______________________________________________________________________________
"iPollingTM" is available exclusively to Peeriosity member company employees, with consultants or vendors prohibited from participating or accessing content. Members have full visibility of all respondents and their comments. Using Peeriosity's integrated email system, Peer MailTM, members can easily communicate at any time with others who participated in iPolling.
Peeriosity members are invited to log into www.peeriosity.com to join the discussion and connect with Peers.   Membership is for practitioners only, with no consultants or vendors permitted.  To learn more about Peeriosity, click here.