Introduction
As companies implement work from home measures for employees in response to COVID-19, many are considering relaxing in-office work requirements and allowing more work from home as a normal course of doing business after the requirements created by the pandemic subside.  With high-speed internet services at home being the norm for many employees already, the question is how much, if any, are companies reimbursing for internet and office supply expenses for an increasingly remote workforce?
iPollingTM Results Review
Peeriosity's iPollingTM was used recently by the Director of GBS Strategy at a Peeriosity member company to understand what types of expenses other member companies reimburse for employees who work at home.  Here is the background provided with the poll:
Our company plans to offer some GBS employees the option to work from home permanently for those jobs that can be done remotely after the pandemic. We plan to provide colleagues with the necessary equipment (PC, monitors, peripherals). We are interested to learn how other companies handle home office expenses such as internet and office supplies for remote workers.
The first question in the poll asked about how the company handles internet expenses under normal business conditions (the standard policy before the pandemic).  For 82% of member companies, the cost of the internet connection is the employee's responsibility.  For 12% of member companies, the employee is given a monthly stipend (a regular fixed amount), and for the remaining 6% the employee is able to submit for reimbursement.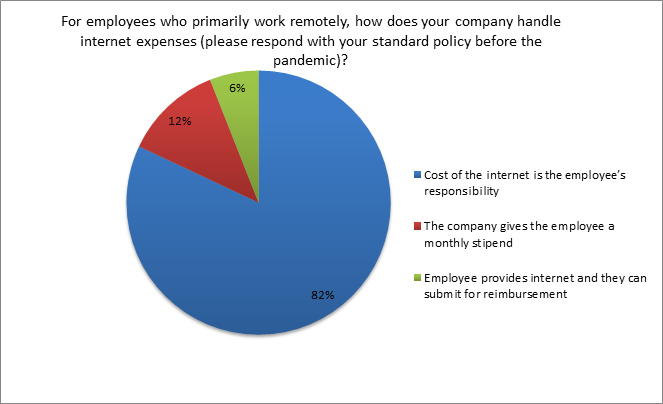 The second polling question asked about how expenses for office supplies are handled.  While 34% of companies do not reimburse for office supplies, the balance of 76% has a process where the employee can either get the supplies they need or where are reimbursed for the office supplies that they purchase. Here are the details: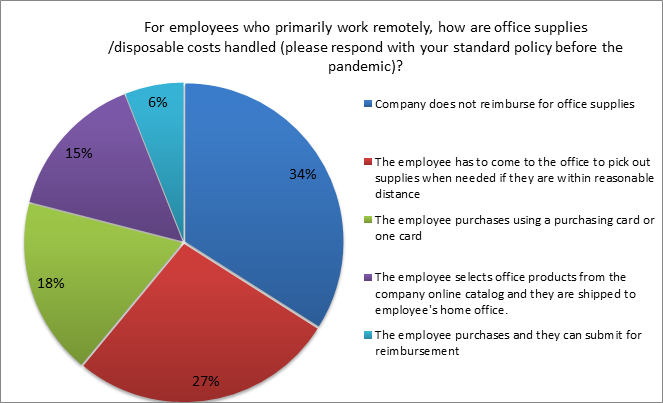 Here are some comments from responding companies:
If the remote worker works in the area, they pick up supplies in the office. If the distance remote workers, we order through the company's online office supply catalog and deliver to the employee's home address.
Certain states (i.e. CA) have stricter laws regarding work-from-home expenses but in general, we expect the employee to provide their own internet access and the employer provides the necessary supplies and equipment.
Working from home is a privilege at the cost of the employee. Limited amenities are provided by the company. Keyboard, mouse, or spare monitors have been provided but not as a general rule.
For office supplies employees can also purchase themselves and be reimbursed for those expenses.
For staff that work remotely at the company's direction, a stipend is paid. For staff who work remotely voluntarily, no stipend is paid.
Costs are primarily the responsibility of the employee. During COVID-19, we will pay internet only if over and above existing arrangements and if the employee has never previously needed to use work-from-home arrangements. 
Closing Summary
The creation of Shared Services allowed companies to concentrate resources including people, to leverage technology, gain greater efficiencies and scale, and standard processes.  One of the design requirements was to provide services remotely, where internal and external customers are not co-located with the teams performing administrative work processes.  With better technology and the elimination of paper handling, responding to a global pandemic provides a true test for every company to explore whether or not work-at-home models might be beneficial.   Using Peeriosity's iPollingTM  capabilities members are able to quickly understand how other leading companies approach this issue, with the ability to see the details for who responded, allowing members to follow up directly with peers for additional discussion and insight. 
What is your company's policy for reimbursing expenses for employees who work from home?  Does your experience with the pandemic increase the likelihood that more employees will be able to do so, even after the pandemic is no longer a concern? 
Who are your peers and how are you collaborating with them?
______________________________________________________________________________
"iPollingTM" is available exclusively to Peeriosity member company employees, with consultants or vendors prohibited from participating or accessing content. Members have full visibility of all respondents and their comments. Using Peeriosity's integrated email system, Peer MailTM, members can easily communicate at any time with others who participated in iPolling.
Peeriosity members are invited to log into www.peeriosity.com to join the discussion and connect with Peers.   Membership is for practitioners only, with no consultants or vendors permitted.  To learn more about Peeriosity, click here.