Introduction
A few weeks ago, Shared Services organizations were comparing approaches for responding to the COVID-19 pandemic, and this week Peeriosity will facilitate a panel discussion with Peeriosity members on a Peeriosity PeercastTM featuring leading member companies sharing ideas and answering questions about Shared Services delivery with the emergence of COVID-19.  This "for members only" PeercastTM supports open and candid discussions between members in a confidential environment, completely free from outside influence or bias, with the ability for all attendees to communicate and follow up with other members at any time.
Because Peeriosity includes research on the detailed processes often within scope for Shared Services, a more detailed poll was recently conducted to better understand the impact of COVID-19 on the Accounts Payable process, with additional polls and discussions between members planned over the upcoming weeks.
iPollingTM Results Review
Peeriosity's iPollingTM was used recently to deliver real-time insights into how members were responding to the COVID-19 pandemic to complete work activities in the Accounts Payable process area.  The first polling question asked about the percentage of the Accounts Payable team that was working from home.  As many may remember it wasn't that long ago that remotely processing Accounts Payable was problematic, with hard copy paperwork required in some instances, and remote connectivity to ERP systems not widely available, even when the process was primarily electronic or reliant on invoice images instead of paper.  For Peeriosity members, those days are in the past, with every responding company indicating that either all or close to all Accounts Payable team members are currently working from home.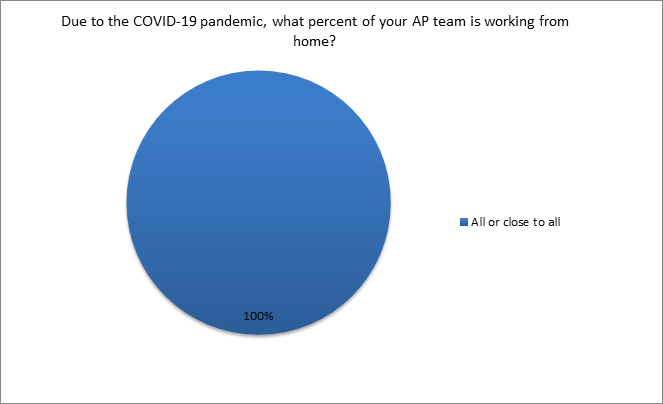 The second polling question asked about the impact COVID-19 has had on being able to both conduct business as usual and meet expected performance targets.  Interestingly, 63% indicated that there was limited disruption, with an additional 29% indicating that the disruption was moderate, with a number of issues that were addressed within a reasonable period of time.  In other words, for 92% of Peeriosity member companies, COVID-19 hasn't been a significant challenge for the Accounts Payable process. Only 8% indicated that the disruption initially was significant with "most of the kinks" now worked out.  No one reported that the disruption was significant, where the difficult challenges have not been adequately addressed.  Here are the details: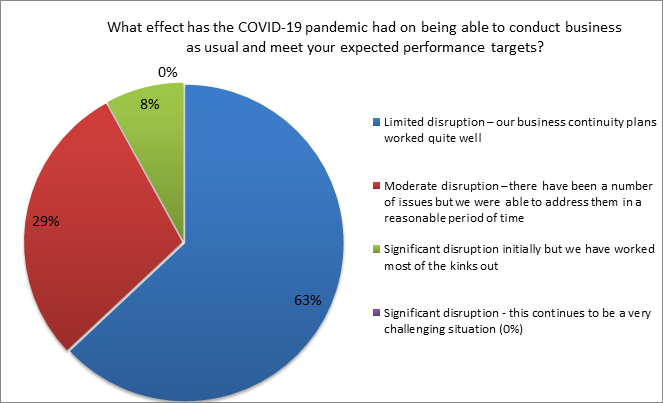 Here are some comments from responding companies:
Our China team has just moved back to the office recently.
We have not had any disruptions to our productivity or deliverable timelines.
Still going through some changes, but most have been worked out.
We have experienced a significant drop-off of invoices being submitted for payment. Curious if others are experiencing the same. Our early theory is that suppliers are working through their BCP plans and are initially less focused on AR.
There were a few issues initially with internet connections, but this settled down in the first couple of days. We still have some system performance issues on occasion, but lower work volumes have matched the lower productivity, so we are maintaining SLAs.
Closing Summary
Soon after the crisis became a priority for all of us, Peeriosity members were sharing ideas and discussing approaches for responding to the COVID-19 pandemic, including details of how individual work processes were being affected.  While some of the initial concerns were mitigated by a decreased workload because of the impact COVID-19 had on supplier's Accounts Receivable processes, the ability of Peeriosity member companies to respond successfully to this "new normal" has been impressive.
What impact has the COVID-19 pandemic had on your company's Accounts Payable process?  What issues or challenges are you still facing?  Are some of your regional centers coming back online as the hot spots for the pandemic shift from China and Asia to Europe and North America?
Who are your peers and how are you collaborating with them?
______________________________________________________________________________
"iPollingTM" is available exclusively to Peeriosity member company employees, with consultants or vendors prohibited from participating or accessing content. Members have full visibility of all respondents and their comments. Using Peeriosity's integrated email system, Peer MailTM, members can easily communicate at any time with others who participated in iPolling.
Peeriosity members are invited to log into www.peeriosity.com to join the discussion and connect with Peers.   Membership is for practitioners only, with no consultants or vendors permitted.  To learn more about Peeriosity, click here.