Introduction
Since launching our Intelligent Automation research area in late 2017, every month we have delivered insightful Peercasts featuring member companies' experiences, sometimes using a panel format with multiple member companies discussing the pros and cons of available solutions, and at other times with a member company featured on a specific topic.  Each Peercasts follows an open format where the featured company shared their experiences, including lessons learned, with Peercast attendees, with all attendee questions answered candidly and honestly. 
Because Peercast attendance is restricted to member practitioners, there is never any reason for bias or restraint, with all attendees able to talk openly about their experiences.   Best of all, members can easily follow up privately with the featured presenter for a one-off conversation, or exchange comments or questions privately with other attendees using Peeriosity's integrated Peer Mail capabilities. 
Company Experience
A recent PeercastTM in our Intelligent Automation research area featured a global company with over $50B in annual revenue discussing their story for implementing their "Process Automation Operating Model" by creating an Automation Center of Excellence that places projects into two categories based on complexity as follows:
Projects that are IT developed, and are completed using complex workflow apps, where the underlying processes being addressed are complex.  For these projects, the project team is composed of IT Production Analysts and IT Production Support resources. 
Projects that are Business Unit developed, using simple workflow apps, where the project is managed within a Business Unit Competency Center, and where the underlying processes are less complex.  For these projects, the project team is composed of process experts from the business with assistance from IT as needed.
iPollingTM Results Review
Peeriosity's iPollingTM was used to provide additional insights by looking at the success factors and challenges Peeriosity member companies face with Intelligent Automation implementations.  The first question asked Peeriosity member companies to identify what has most contributed to the success of Intelligent Automation projects.  Three factors were most often cited, with 33% saying having dedicated internal resources was the most important, 29% indicating that executive leadership/sponsorship was the most important, and 21% responding that having staff that is open to change, new ideas, and improvement was the primary success factor.  Interestingly, the response option for "the tools and vendor we selected" was picked as most important by only 4% of respondents.  Here are the details: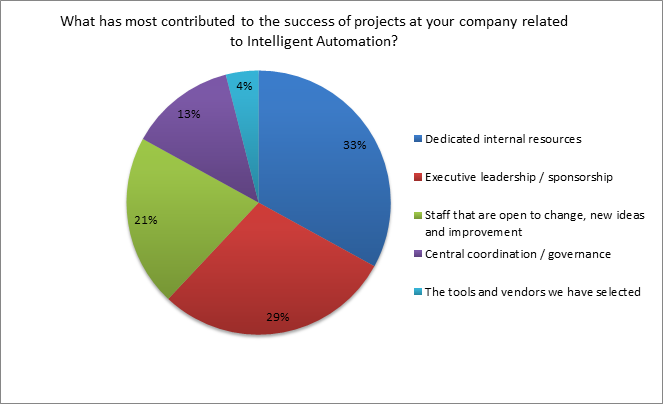 The second polling question asked about the biggest challenge related to implementing projects using Intelligent Automation.  With 9 different challenges identified, the top selection for 26% of companies is the challenge of having internal resources that are not dedicated to Intelligent Automation.  The next four top challenges are all tied at 13%, including lack of executive leadership/sponsorship, difficulty in getting trained resources, projects being dispersed across the company with no central coordination, and challenges related to project selection.  These were followed by 9% who identified the biggest challenge as trying to do it ourselves without external help.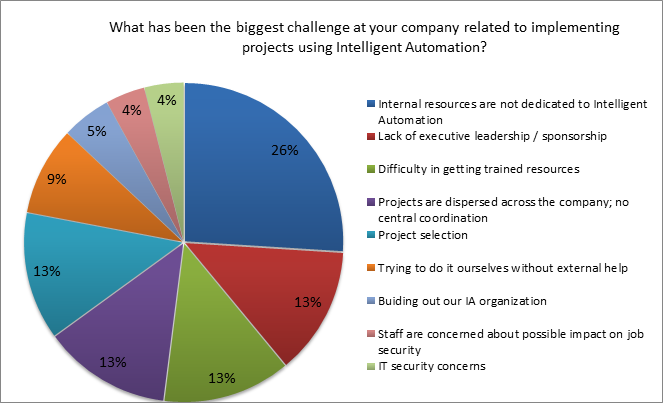 A few of the comments from members include:
Our biggest challenge with the success of automation projects has been the level of process variants in our GBS business. Projects have either been unable to deliver the anticipated benefits because the process(es) are significantly more complicated than first understood, or there are so many process variants that the business case for automation does not stack up.
Intelligent automation is relatively new to our organization, but we have implemented a significant number of processes and have leadership support.
We are more in the automation through robotics phase than the artificial intelligence phase at this stage. In the initial phase, building the support organization is taking some time as we build up capacity. We have many areas for implementation but are choosing those with the biggest benefit first.
Dedication to the business was challenging as they have projects and their normal work to focus on.
Driving the E2E process changes that are needed to fully leverage the automation. Requires depth of understanding, and robust change management.
Intelligent Automation is receiving a lot of attention at my company; however, the limited amount of resources dedicated to IA makes it extremely difficult to get projects completed.
Our biggest challenge has been to find the right use cases that will provide a substantial ROI and break even within 18 months or less.
Closing Summary
Every month Peeriosity members participate in private and exclusive discussions with Peers as members of a practitioners-only research community that delivers primary, "from the source", research with details on how leading companies are evaluating and implementing Intelligent Automation.  Each Peercast is supported by member research, using Peeriosity's iPollingTM capabilities to highlight the range of approaches followed, with the ability to see details by company, and with an option for following up directly with peers for additional discussion.
Regarding success and challenges for Intelligent Automation projects, the two biggest success factors cited most often by member companies are having dedicated internal resources and the importance of Executive leadership/sponsorship.  Not surprisingly two of the biggest challenges are associated with the same two issues – internal resources that aren't dedicated, and a lack of executive leadership/sponsorship.
What approach does your company take to access primary research for how leading companies are implementing Intelligent Automation?  If you have already started your Intelligent Automaton journey, what has contributed most to the success of projects at your company?  What are your biggest challenges?
Who are your peers and how are you collaborating with them?
______________________________________________________________________________
"iPollingTM" is available exclusively to Peeriosity member company employees, with consultants or vendors prohibited from participating or accessing content. Members have full visibility of all respondents and their comments. Using Peeriosity's integrated email system, Peer MailTM, members can easily communicate at any time with others who participated in iPolling.
"PeercastsTM" are private, professionally facilitated webcasts that feature leading member company experiences on specific topics as a catalyst for broader discussion.  Access is available exclusively to Peeriosity member company employees, with consultants or vendors prohibited from attending or accessing discussion content.  Members can see who is registered to attend in advance, with discussion recordings, supporting polls, and presentation materials online and available whenever convenient for the member.  Using Peeriosity's integrated email system, Peer MailTM, attendees can easily communicate at any time with other attending peers by selecting them from the list of registered attendees. 
Peeriosity members are invited to log into www.peeriosity.com to join the discussion and connect with Peers.  Membership is for practitioners only, with no consultants or vendors permitted.  To learn more about Peeriosity, click here.