Introduction
The implementation of Intelligent Automation tools can have a dramatic impact on the routine work activities of team members across all areas of Shared Services.  While there are clever ways to describe the change, including making work more interesting, or taking the robot out of people's jobs, even when the impact isn't directly tied to reductions in staff, change creates uncertainty and stress.  Without plans for communication, training, and conflict resolution, even the most positive changes can have negative results that contribute to low employee morale, higher turnover, and decreased productivity.    
Company Experience
A PeercastTM in our Intelligent Automation research area featured a global company with over $50B in annual revenue with customers and operations around the globe, discussing candidly their experience with managing the change process for their Intelligent Automation implementations.  The company's Intelligent Automation efforts are delivered using a Center of Excellence operating model, which allows them to take a holistic approach to change management, with the result that the look and feel of the change effort will have similarities from project to project, which reduces stress and uncertainty.
Further details regarding our feature company's experiences in this area, including the complete member presentation and PeercastTM recording, can be found on the Peeriosity member website.
iPollingTM Results Reviewin
Peeriosity's iPollingTM was recently used to better understand how Peeriosity member companies manage the change process.  In 46% of the companies, a formal and documented change process is followed that includes a post-implementation review of the effectiveness of the change process to identify improvement opportunities and address issues that may have been overlooked.  An additional 8% use a formal change management process, but don't conduct efforts specifically targeted to assess the effectiveness of the change management steps followed.  The balance of 46% of member companies indicates that they follow a less formal approach which varies depending on what the project requirements are. 
For change management, while there is no one-size-fits-all approach, the caution to using a less formal method is that when resources get tight or challenge come up during implementation, as is often the case, the first thing that gets dropped our efforts to actively manage the change process.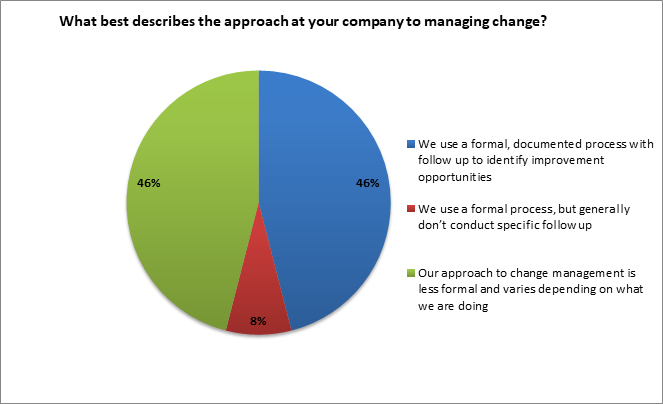 With regards to the primary challenges Peeriosity member companies face when implementing a major change, the majority of companies 61% indicated that the biggest challenge was having the appropriate resources to get the job done, with an additional 15% indicating the biggest challenge was getting the support of the staff members who are affected.  Other challenges cited include getting executive-level sponsorship, delivering clear and meaningful communication, and issues with the internal change management process.  Here are the details: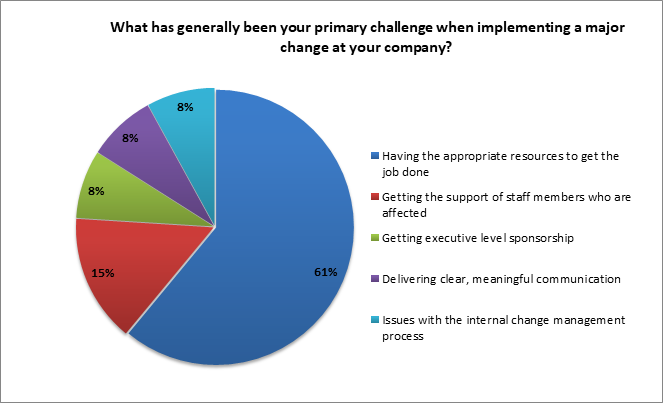 Here are some of the added comments from members:
Our challenge primarily is internal and how management executes change management.
Effective communication around changes come in different settings: broader communication (formal to all teams), individual teams (address team concerns), and sometimes even team member level (clarify individual doubts / engage team members).
Closing Summary
Having a clear plan in place to manage the change process can have a significant impact on a project's success, yet when resources and/or timelines are tight, change management is often one of the first things that drop off of the priority list.  With Intelligent Automation projects having a broad impact on employees who have responsibility for front-line activities, change management is one component of the overall implementation plan that should not be ignored.   This is an area where a modest investment can pay big dividends.
For your company's Intelligent Automation projects, what is your approach to managing change?  What are your primary challenges when implementing a major change and how have you addressed them?
Who are your peers and how are you collaborating with them? 
______________________________________________________________________________
"PeercastsTM" are private, professionally facilitated webcasts that feature leading member company experiences on specific topics as a catalyst for broader discussion.  Access is available exclusively to Peeriosity member company employees, with consultants or vendors prohibited from attending or accessing discussion content.  Members can see who is registered to attend in advance, with discussion recordings, supporting polls, and presentation materials online and available whenever convenient for the member.  Using Peeriosity's integrated email system, Peer MailTM, attendees can easily communicate at any time with other attending peers by selecting them from the list of registered attendees. 
"iPollingTM" is available exclusively to Peeriosity member company employees, with consultants or vendors prohibited from participating or accessing content. Members have full visibility of all respondents and their comments. Using Peeriosity's integrated email system, Peer MailTM, members can easily communicate at any time with others who participated in iPollingTM.
Peeriosity members are invited to log into www.peeriosity.com to join the discussion and connect with Peers.   Membership is for practitioners only, with no consultants or vendors permitted.  To learn more about Peeriosity, click here.