Introduction
Capitalizing on the synergies and balance between process re-engineering and process automation is critical to the success of any Shared Services organization.  In a recent PeercastTM, our feature company shared their experiences using automation technologies including Robotic Process Automation (RPA), in coordination with process optimization utilizing Business Process Management (BPM), to innovate their Shared Services operation.
Company Experience
A Peeriosity member company with over $50 billion USD in annual revenue experienced a significant level of M&A activity over the past two decades resulting in a wide variety of processing locations and disparate systems spread across the globe.  Those processing locations include both captive and outsourced service centers.
With the new technology tools now available to Shared Services via an active partnering with a newly created Intelligent Automation team, the Shared Services process improvement team is able to accelerate process optimization efforts to build smarter, faster, and more stable applications that are applicable to the current environment with the ability to transition smoothly as M&A activity is completed.
In the next 1-2 years, the company expects to have 50+ automation across Finance, Engineering, Digital, Ops, and HR, with the benefits of automation including hard cost savings, cost avoidance, improved compliance, and productivity gains. 
Some of the lessons learned include:
"Process first" approach as opposed to "tool first" approach
Balance ROI and extensibility of applications
Fail fast and learn
Multi-function approach – lock arms with Digital
Alignment between business needs and Shared Services transformation
Additional details around the feature company's efforts in this area, including the original presentation material and PeercastTM recording can be found on the Peeriosity member website.
iPollingTM Results Review
The recent results from the poll created with the iPollingTM technology in conjunction with this PeercastTM are quite interesting.  The first poll question asked companies what best describes where their Shared Services organization is today with respect to utilizing Intelligent Automation.  The responses were fairly evenly distributed across the answer key, with 24% indicating that they have a well-defined strategy and have implemented substantial projects.  Another 18% have a strategy and have implemented a few projects, but need to work on governance, while 29% have implemented projects on a limited basis and are now focusing on developing strategy and setting up governance.  Finally, the remaining 29% have plans to develop a strategy and use Intelligent Automation in the future.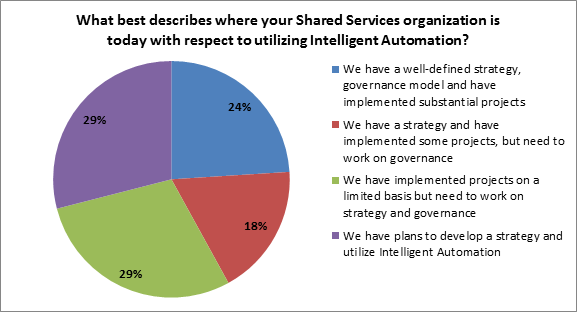 The second polling question then addressed the topic of what has been the biggest challenge in implementing Intelligent Automation in Shared Services.  The most popular response (37%) was developing shared responsibilities between Shared Services and IT, which was closely followed by getting ideas for projects that are impactful (32%).  Being able to meet the demand for automation was the response for 21% of the companies and the remaining 10% said that developing a way to effectively evaluate and prioritize projects was their biggest challenge with implementing Intelligent Automation.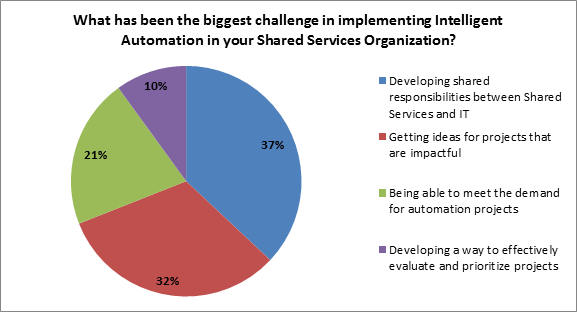 Some of the comments made by Peeriosity members related to this poll include the following:
Healthcare, Pharmaceuticals, Biotech Member:  Governance is in IT, not Shared Services. If there is a strategy, it is not well communicated.
Consumer Products & Services Member: We have multiple RPA projects in place, but have issues with our Virtual Desktop Infrastructure (VDI). It takes too long for our outsource team to develop and test the bots. We are moving to a more advanced company that specializes in RPAs in 2020.
Agriculture & Mining Member: We have implemented two RPA projects, with mixed results.
Healthcare, Pharmaceuticals, Biotech Member: Have implemented just a few pilots. The governance model is in place, but still working on a go-forward strategy.
Financial Services Member: Only one RPA project implemented to date; cost-benefit analysis does not justify other RPA ideas.
Manufacturing Member: We're currently working on a Proof of Concept (POC) for AP invoices. The result of this POC will determine the next step.
Closing Summary
Technology has always been a critical success factor for Shared Services operations across the world and, with the introduction of Intelligent Automation over the past few years, the impact has been exponential.  When the capabilities of these technologies are well-harnessed and introduced in a systematic and well-managed manner, the results can be significant.
What is the status at your company with respect to the implementation and utilization of Intelligent Automation?  Is your current strategy meeting your needs or is it time to take another look at this important aspect of your Shared Services operation?
Who are your peers and how are you collaborating with them?
______________________________________________________________________________
"PeercastsTM" are private, professionally facilitated webcasts that feature leading member company experiences on specific topics as a catalyst for broader discussion.  Access is available exclusively to Peeriosity member company employees, with consultants or vendors prohibited from attending or accessing discussion content.  Members can see who is registered to attend in advance, with discussion recordings, supporting polls, and presentation materials online and available whenever convenient for the member.  Using Peeriosity's integrated email system, Peer MailTM, attendees can easily communicate at any time with other attending peers by selecting them from the list of registered attendees. 
"iPollingTM" is available exclusively to Peeriosity member company employees, with consultants or vendors prohibited from participating or accessing content. Members have full visibility of all respondents and their comments. Using Peeriosity's integrated email system, Peer MailTM, members can easily communicate at any time with others who participated in iPollingTM.
Peeriosity members are invited to log into www.peeriosity.com to join the discussion and connect with Peers.   Membership is for practitioners only, with no consultants or vendors permitted.  To learn more about Peeriosity, click here.