Introduction
While many Peeriosity member companies perform Cash Application processing using a broad geographic scope and an end-to-end process design, challenges often remain for achieving the highest levels of automatic processing.   For many companies, the deduction validation and clearing process is primarily a manual process, regardless of whether the process is insourced or outsourced to a third party. 
Ensuring that policies and procedures, including detailed desk procedures, are consistently understood and followed with any exceptions identified and defined is a key success factor for any Shared Services operation.  For many, this means defining a process for quality audits of all Standard Operating Procedures as a check on compliance.
iPollingTM Results Review
Recently the Director of Global Business Services for Accounts Receivable at a Peeriosity member company created a poll to better understand how peer companies were performing the deduction clearing process.  The first poll question asked about where the process was performed and whether or not automation tools were utilized.  The results indicate that 81% of member companies perform the deduction validation and clearing process insourced (performed in-house), with only 13% indicating that their insourced process utilizes automation tools.  For the 7% of member companies who outsource the process, none report that their outsourced process for validation and deduction clearing is automated.  Here are the details.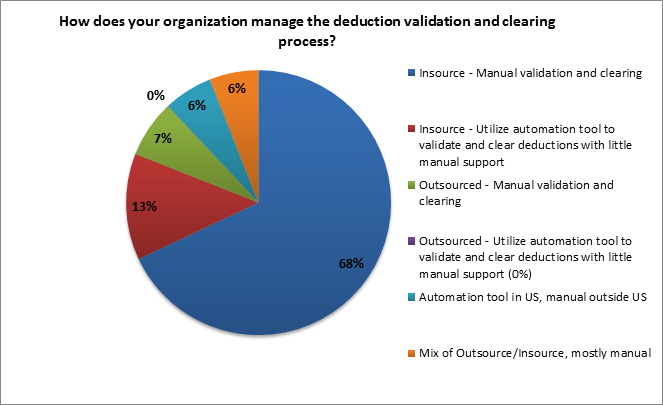 The second poll question looked at the type of tool being utilized for companies that have automated processes.  60% of member companies with an automated solution use a third-party tool, 20% are using a custom automation tool, and 20% indicate that they are using a tool that leverages their ERP system.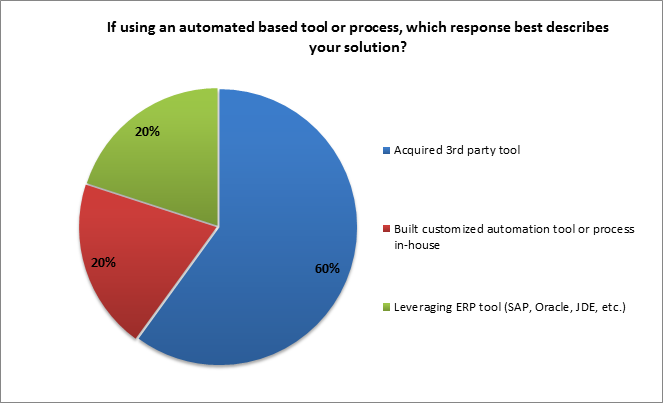 Below are several of the comments from Peeriosity members that provide additional insight:
Our deduction clearing process is mostly manual. We utilize a 3rd party to review and clear promotional and non-promotional (OS&D) deductions.
Currently looking at tools to automate.
We use Salesforce.com to route and track deductions. Works great, but still, needs to be manually reviewed by proper departments.
We utilize in-house developed automation tools, but with manual validation where appropriate based on predictive analytics.
Mostly automated using AutoBank from Serrala (former HanseOrga).
We leverage a hybrid approach. We outsourced our more transactional and less-complex work/customer portfolios to our BPO partner and retained the more analytical and complex work. Most of the work is manual validation supplemented by automated tools to gather data and perform initial analytics.  We leverage ERP supplemented by RPA and other automation tools.
We use Cforia, but just to document, organize, and prioritize the dispute issues and data – not for validation or clearing.
It's manual validation and most of the clearing is also done in the same manner.
In North America, we use Channel Revenue Management (Trade Management) which is an Oracle product for assignment and routing through the workflow from cash application to the customer service group. Variances are manually reviewed and then resolved/closed back through this module to update AR. In other regions, nothing is used on the back end like this. Most of the customer claims happen on the front end of the process through CSRs and that information is held in an in-house repository. Regional industry practices seem to be different.
Closing Summary
For many companies, the deduction validation and clearing process is primarily a manual process, regardless of whether the process is insourced or outsourced to a third party.  At Peeriosity, member companies can quickly identify how leading peers approach this challenge, with the ability to follow up directly with peers for additional discussions. 
How does your organization manage the cash application deduction validation and clearing process?  If you have automated, what approach did you take, and what solutions or software are you using?
Who are your peers and how are you collaborating with them?
______________________________________________________________________________
 "iPollingTM" is available exclusively to Peeriosity member company employees, with consultants or vendors prohibited from participating or accessing content. Members have full visibility of all respondents and their comments. Using Peeriosity's integrated email system, Peer MailTM, members can easily communicate at any time with others who participated in iPolling. Peeriosity members are invited to log into www.peeriosity.com to join the discussion and connect with Peers.   Membership is for practitioners only, with no consultants or vendors permitted.  To learn more about Peeriosity, click here