Introduction
The introduction of mobile device technology has had a big impact on all of us. From eliminating the need for a separate watch, GPS device, scanner, or camera, mobile devices have changed the world. Because of their unique capabilities, in addition to being mobile telephones, it's no surprise that mobile devices have made such headway into the business world, including impacting many parts of the end-to-end travel process; from travel planning and booking, expense report preparation and submission, through manager approval and expense report processing.
Company Experience
A recent Peeriosity PeercastTM featured Peeriosity member company with $8 billion USD in annual revenue, discussing their approach to deploying mobile device capabilities related to their T&E system, Concur. Some of the benefits of this deployment for the T&E organization include the following:
Travel Booking & Expense Processing Connected
Powerful Reporting
Improved Timeliness
Streamlined Process
E-Receipts
Mileage Accuracy
Reduced Errors
Increased Compliance
In addition, for the cardholders, some of the benefits include increased productivity, mobility, automated expense documentation, and a simplified expense reporting process.
An important part of the implementation of mobile device capabilities was the creation of process metrics that not only tracked the number of employees using mobile technology in this manner and their number of logins, but also provide significant detail around twelve different types of travel mobile events, such as booked air, downloaded itineraries, and cancelled hotels.
Some of the process efficiencies realized by the company in this area include more timely submission of expense reports, a reduction in follow-up work, card deactivations, and re-work, and improved accuracy and reporting.
Further details regarding our feature company's experiences in this area, including the complete member presentation and PeercastTM recording, can be found on the Peeriosity member website.
iPollingTM Results Review
To support the PeercastTM, a poll was developed using the iPollingTM technology.  The first poll question looked at the status of offering the capability for employees to submit receipts using their mobile devices, with the vast majority (81%) of the companies having implemented this capability.  Another 4% of the companies have approved this approach, while 12% are evaluating doing so and 3% evaluated this option and decided not to proceed.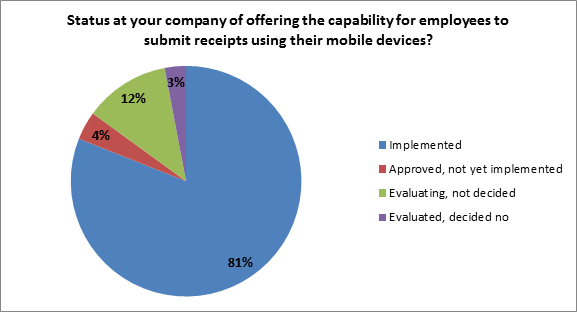 The next question was similar, but looked at the status of offering the capability for employees to submit expense reports using their mobile devices.  Again, a large majority (80%) of companies have implemented this option, while 8% have approved doing so.  The remaining 12% have not yet evaluated offering this capability to their employees.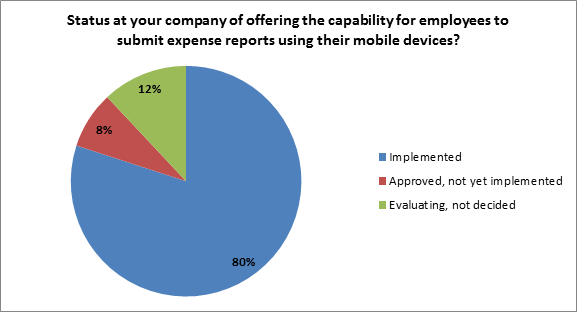 Below are several of the comments added by members to the iPollingTM questions:
Real Estate & Construction Member: This has been widely embraced by the field employees.
Healthcare, Pharmaceuticals, Biotech Member: Various phases of implementation globally, but digital copies of receipts and ability to submit expenses via mobile devices are implemented via Concur.
Manufacturing Member: This is in place and being utilized extensively.
Healthcare, Pharmaceuticals, Biotech Member: This ability is in place and being utilized.
Energy & Utilities Member: Project is underway to offer these capabilities to our 6,000+ expense filers. Implementation is slated for Q4.
Healthcare, Pharmaceuticals, Biotech Member: We've implemented the ability to submit and approve expense reports in all markets. We don't require people to use their mobile devices and app for expense reporting, but rather promote as a tool that may help them based on their job function and responsibilities.
Closing Summary
The usage of mobile device capabilities in the T&E area has increased dramatically in just a few years and will likely continue to do so. Providing benefits both to the cardholders and the Travel Expense organization make it a win-win option for most companies.
How has your company used mobile devices to simplify the travel process? Are travelers able to book travel and complete expense reports using their smart phones or tablet devices?
Who are your peers and how are you collaborating with them?
_____________________________________________________________________________
"PeercastsTM" are private, professionally facilitated webcasts that feature leading member company experiences on specific topics as a catalyst for broader discussion. Access is available exclusively to Peeriosity member company employees, with consultants or vendors prohibited from attending or accessing discussion content. Members can see who is registered to attend in advance, with discussion recordings, supporting polls, and presentation materials online and available whenever convenient for the member. Using Peeriosity's integrated email system, Peer MailTM, attendees can easily communicate at any time with other attending peers by selecting them from the list of registered attendees.
"iPollingTM" is available exclusively to Peeriosity member company employees, with consultants or vendors prohibited from participating or accessing content. Members have full visibility to all respondents and their comments. Using Peeriosity's integrated email system, Peer MailTM, members can easily communicate at any time with others who participated in iPollingTM.
Peeriosity members are invited to log into www.peeriosity.com to join the discussion and connect with Peers. Membership is for practitioners only, with no consultants or vendors permitted. To learn more about Peeriosity, click here.