Introduction
As external service providers continue to improve their service offerings, more companies are including outsourcing as an important part of their overall strategy for Purchase-to-Pay.  With the significant introduction of Intelligent Automation at many outsourcing providers, their capabilities have increased substantially allowing them to provide a service offering that is effective both operationally and from a cost standpoint to their clients.  This research abstract looks at one company's efforts in this area, particularly within Accounts Payable and Travel Expense (T&E).
Company Experience
On a recent Peeriosity PeercastTM, a Peeriosity member company with over $10 billion in annual revenue, shared their experiences in outsourcing Purchase-to-Pay activities to Tata Consultancy Services (TCS).  The company has four global P2P process support centers, with the two centers in the United States and Slovakia being captive and the two located in India and China being part of the TCS operation.  The outsourced centers provide the majority of services for both Accounts Payable and T&E, with the exception of payments, system support, European T&E processing, and L2/3 customer service.
A primary focus of the feature presentation was the oversight of the relationship with TCS, especially in the area of performance measurement.  The following are the status metrics that are monitored daily by the company:
Expense reports audited
Expense reports in the process
Expense reports sent back for correction %
Pending corporate card submissions (weekly)
Pending expense submissions (weekly)
Invoices in process
Match exceptions (weekly)
Upload template status
Customer service volume
Daily ERP – bank payments reconciliation
While the transition to TCS was complex and challenging, the company has been pleased with the overall results.  The learnings from this project have been significant and include the following:
Allocate at least two months for onsite and one month for offsite knowledge transfer
Verify Statement of Procedures encompass all detailed steps for all transactions with screen prints at a country level
Allocate one full month of Subject Matter Experts onsite support at outsourcer through month end, preferably quarter-end close
Retain outsourced employees for at least one month after going live with retention bonuses
Maintain Subject Matter Experts in key areas
Review, interview and approve all transitions, outsource the management and key position hires
Hold daily update meetings during onsite knowledge transfer, weekly at go live, and monthly governance meetings with an annual onsite
One-for-one outsourcing to outsourced employees is not realistic. A bench/buffer is required especially in the beginning and smaller ongoing due to attrition
In the beginning, management of the outsourcer at the micro level is required
Choose an outsourcer with experience, a large global customer base, and with six sigma and robotics expertise
Additional details regarding the company's experiences in outsourcing the majority of their Purchase-to-Pay process can be found on the Peeriosity member website, including their complete presentation and a recording of the PeercastTM. 
iPollingTM Results Review
A poll developed utilizing Peeriosity's innovative iPollingTM technology provides some interesting details about the degree of outsourcing of P2P processes by major corporations.  The first question asked about the status of outsourcing P2P processes, with 44% having outsourced significant portions of their operation, 20% having outsourced moderate levels, and 12% limited levels.  Just 12% have outsourced and then brought it back in-house, while the remaining 12% have not yet considered outsourcing.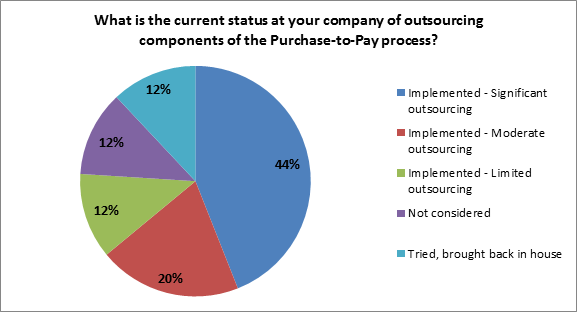 The second poll question then addressed the geographical location of the primary P2P outsourced activities, with Asia / India being the most prevalent at 57%.  This was followed by North America with 14%, and multiple lower-cost locations across the globe for 10%.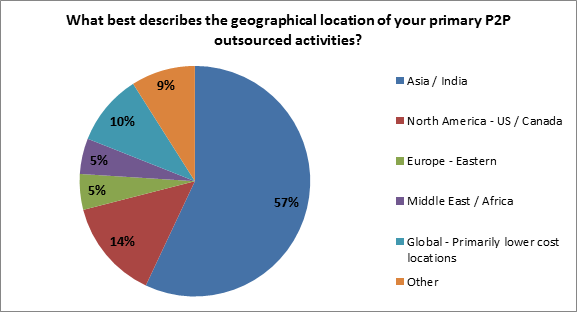 Some of the comments made by Peeriosity members related to this poll include the following:
Manufacturing Member: We are utilizing RPA to eliminate the value of outsourced P2P support.
Healthcare, Pharmaceuticals, Biotech Member: In addition to India, there is a small team with the same outsourcer in LATAM, primarily for language requirements.
Manufacturing Member: Outsourced to Latin America for commercial businesses and the US for aerospace businesses.
Retail Member: P2P solution with automated workflow and RPA is used to eliminate manual entry and non-value-added steps in the process.
Computers & Electronics Member: In-house largely in Asia.
Manufacturing Member: Outsourced regionally.
Healthcare, Pharmaceuticals, Biotech Member: We have only outsourced telecom and utility invoices.
Manufacturing Member: We outsourced invoice scanning and OCR within Europe and had to bring it back in-house due to the volume of invoices that got lost in the process. Today, we still have limited outsourcing of the same activity, but trying to get it in-house again.
Consumer Products & Services Member: AP process outsourcing in India.
Healthcare, Pharmaceuticals, Biotech Member: Agilent has not outsourced to a 3rd party. We manage in-house in our financial center.
Non-Profit Member: Utilities billing and rate audit/management and processing for payment are outsourced across the United States and Canada.
Closing Summary
As the service levels for outsourcing companies continue to improve while costs drop as a result of improved process design and leading-edge technology, this option continues to be an attractive one for many major corporations across the globe.  While not an appropriate solution for everyone, having an experienced provider that has this type of operation as their area of expertise can result in not only reduced costs, but increased customer satisfaction and higher quality levels.
What is the status at your company with respect to the use of outsourcing at least portions of the P2P process?  Does your current approach meet your needs or is it time to take another look at this important aspect of your operation?
Who are your peers and how are you collaborating with them?
______________________________________________________________________________
"PeercastsTM" are private, professionally facilitated webcasts that feature leading member company experiences on specific topics as a catalyst for broader discussion.  Access is available exclusively to Peeriosity member company employees, with consultants or vendors prohibited from attending or accessing discussion content.  Members can see who is registered to attend in advance, with discussion recordings, supporting polls, and presentation materials online and available whenever convenient for the member.  Using Peeriosity's integrated email system, Peer MailTM, attendees can easily communicate at any time with other attending peers by selecting them from the list of registered attendees. 
"iPollingTM" is available exclusively to Peeriosity member company employees, with consultants or vendors prohibited from participating or accessing content. Members have full visibility of all respondents and their comments. Using Peeriosity's integrated email system, Peer MailTM, members can easily communicate at any time with others who participated in iPollingTM.
Peeriosity members are invited to log into www.peeriosity.com to join the discussion and connect with Peers.   Membership is for practitioners only, with no consultants or vendors permitted.  To learn more about Peeriosity, click here.