Shared Services (and Global Business Services) organizations can drive efficient processes with strong controls as the result of the implementation of Lean Six Sigma. Coupled with a Business Process Management ("BPM") methodology, these efficiencies can extend beyond Shared Services to entire global processes.
The use of formalized quality methodologies within  Shared Services has been an acknowledged best practice for years. However, as companies look to Shared Services (or Business Services) to expand their scope, the foundation of a quality program that addresses efficiency, control, and process improvement is imperative. Based on a recent poll of Peeriosity member companies, the prevalence of quality programs within Shared Services was extremely high at 70%, although at varying degrees of maturity: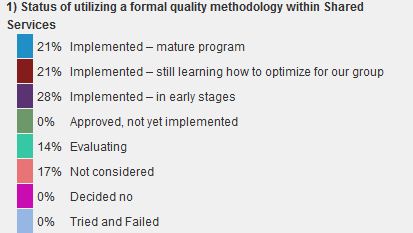 Recently, in what was one of the most highly attended Peeriosity PeercastsTM to date, a member company led a discussion on how they have structured not only their Lean Six-Sigma ("LSS") program but their BPM model that encapsulates LSS, as well as global end-to-end processes. As with all Peeriosity PeercastsTM, a member company volunteers to lead a highly interactive discussion and share their experiences. Our feature company is a leader in their industry operating in over 100 countries using standardized global processes executed through regional Shared Services hubs.
After implementing a highly successful Shared Services organization, they initiated their LSS and BPM proof of concept in 2006 within parts of the Finance organization. Today, it is an embedded piece of global end-to-end process optimization, as well as part of daily operations. As part of Shared Services global oversight, core tents for continued business process improvement include:
Empowered Global Process Owners
Standardized Defect and Cycle Time Measurement and Management
Formalized Change Management Programs
Balanced Scorecards
Knowledge Management
During the PeercastTM,   the featured company provided multiple case studies in which Lean Six Sigma and BPM were deployed to initially transform a process and then ensure the ongoing stability and continuous improvement. One of the case studies highlighted an initiative to improve Capital Planning through thru Fixed Asset Accounting Process. In addition to multiple redundancies in activities across the process (both internal and external to shared services) it was discovered that historically, almost 70% of capital requests represented less than 3% of the expenditures and that three spend categories of represented 92% of expenditures.
The result was to eliminate the single standardized process for Capital Planning thru Fixed Asset Accounting and create dual processes dependent upon dollar threshold and spending category. The company realized increased efficiency (cost reduction), reduced cycle time, and increased visibility for improved controls. Through BPM, the company continues to improve this process.
Within the Peeriosity Shared Services Leadership Research Area, members can research best practices associated with formalized quality programs including an archived PeercastTM presentation and discussion regarding Kaizen Blitz Events for Shared Services. Our feature company described its six-week timeline for breakthrough results. Their Blitz events are in three phases:
Plan

Charter
Define Scope
Select Team
Schedule Session (1-5 days depending on scope)

Execute

Map Current Process
Identify issues/gaps/redundancies/non-value added activities (using quality tools)
Proposed Solutions Evaluated
Implement Chosen Solutions
Identify longer-term Action Items

Post-Audit

Actual Results versus Plan
Feedback from Stakeholders
Implement Adjustments
Without exception, Shared Services organizations that have implemented formalized quality programs have had positive results, with 87% of the respondents indicating they are satisfied with the results.

The comments most often mentioned in regards to realized benefits include:
Cost Reductions
Reduced Cycle Times
Improved Controls
Clarification of Roles and Responsibilities
Simplification
Elimination of Unnecessary Bureaucracy
Leveraging Existing Technology Solutions
Sense of Satisfaction from Solving a Problem Everyone Knows Exists
The discussion continues within the Peeriosity Shared Services Leadership Research Area.
How is your Shared Services organization implementing Lean Six-Sigma or other formalized quality programs?
Who are your peers and how are you collaborating with them?
1 "PeercastsTM" are private, professionally facilitated webcasts that feature leading member company experiences on specific topics as a catalyst for broader discussion.  Access is available exclusively to Peeriosity member company employees, with consultants or vendors prohibited from attending or accessing discussion content.  Members can see who is registered to attend in advance, with discussion recordings, supporting polls, and presentation materials online and available whenever convenient for the member.  Using Peeriosity's integrated email system, Peer MailTM, attendees can easily communicate at any time with other attending peers by selecting them from the list of registered attendees.