Shared Services organizations have implemented imaging and workflow technology for years to improve the efficiency of processes that were paper and approval-intensive such as Procure-to-Pay and Quote-thru-Cash. However, many Record-to-Report process activities have been slower to embrace the technology that can not only reduce paper flow and e-mails but also track and facilitate required approvals, reconciliations and reviews.
The trend of moving higher technology to the General Accounting area may be accelerating if recent collaborative activity within the  Peeriosity General Accounting Research Area is any indication. A recent PeercastTM   on the topic was extremely well attended and highly interactive, with 53% of organizations indicating that they have either implemented workflow technology for their General Accounting activities or have it approved, but not implemented. Only 24% of attendees indicated that they have yet to consider implementation.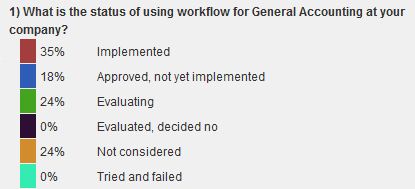 For those that have implemented workflow technology for General Accounting activities, the results were favorable with all respondents indicating that there was an improvement or that the results were not yet in. In no instances was the response neutral or negative.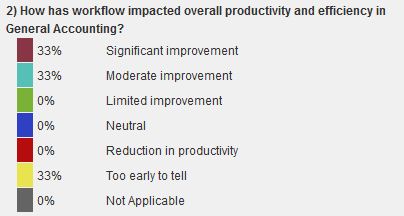 As with all Peeriosity PeercastsTM, a member company volunteers to lead the discussion and share their experience. The feature company had a successful SAP implementation that initially did not include a General Accounting imaging and workflow solution. The situation in General Accounting was assessed at first by reviewing the state of journal entries and reconciliations as follows:
Journal entry approval was decentralized (and not likely to change).
Ensuring proper approvals on journal entries was tedious and time-consuming
Backup support for journal entries and reconciliations was not stored centrally nor were they digital.
Tracking down supporting documentation was time-consuming.
There was no way of ensuring there was proper support for journal entries or reconciliations.
Shared Services was responsible for insuring over 2,000 accounts and over 40 company codes were being reconciled.
There was no risk assessment assigned to accounts and reconciliations.
Multiple databases were used to manage reconciliations company-wide.
There was no effective way to communicate and enforce timelines for journal entries and reconciliation standards.
During the discussion, PeercastTM attendees agreed that prior to the implementation of any General Accounting imaging and workflow technology, a solid foundation of standards had to be in place and implemented including:
Definitions for standard versus non-standard journal entries
Standard naming conventions
Clear decision and approval rights
Clear roles and responsibilities for each account reconciliation and analysis
Our feature company used a combination of third-party software (for reconciliations) that is integrated with SAP, as well as SAP Workflow. They have been very satisfied with the results since implemented it two years ago and gave examples of the user interfaces during the PeercastTM. Their results are measured in terms of efficiency, quality, and control. Some examples:
Efficiency – The rate charged to shared services customers for reconciliation services (based on actual costs) has been reduced by 63% over the last two years.
Quality – Certification statements with supporting documentation are all housed on a single system.
Control – System-generated real-time compliance metrics (tracks various stages). Currently over 99% compliant.
Following the PeercastTM, the discussion continued within the Peeriosity General Accounting Research Area with a member company inquiring specifically about automated solutions for the inevitable manual entries that are required at month-end. A member company used Peeriosity iPollingTM to understand how technology is being used for manual journal entries: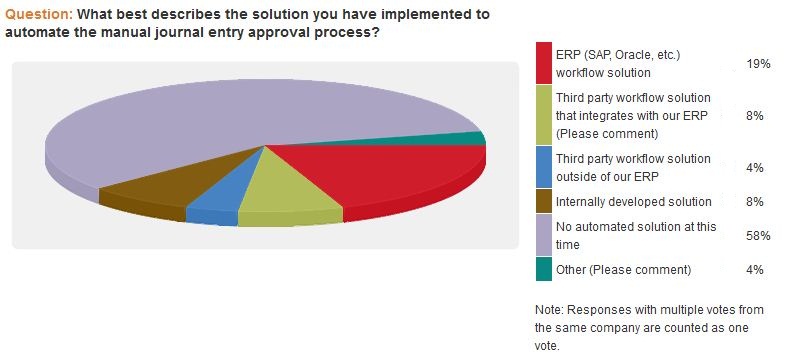 Using iPollingTM, members can drill down to see the details for who responded, with the ability to add comments or communicate with other members privately using Peeriosity's private email system, Peer MailTM.
This topic is very popular within the Peeriosity General Accounting Research Area and includes comments regarding specific vendors and the level of satisfaction with the related results.  While no one company has found General Accounting automation nirvana, sharing experiences in an environment free of any bias proves to be invaluable as members are actively engaging on this topic that is high on their priority list.
The discussion continues within Peeriosity's seven research areas where you can interact with and access the collective knowledge and experience of leading global organizations.
How is your Shared Services organization utilizing imaging and workflow technology to streamline General Accounting operations?
Who are your peers and how are you collaborating with them?
1 "PeercastsTM" are private, professionally facilitated webcasts that feature leading member company experiences on specific topics as a catalyst for broader discussion.  Access is available exclusively to Peeriosity member company employees, with consultants or vendors prohibited from attending or accessing discussion content.  Members can see who is registered to attend in advance, with discussion recordings, supporting polls, and presentation materials online and available whenever convenient for the member.  Using Peeriosity's integrated email system, Peer MailTM, attendees can easily communicate at any time with other attending peers by selecting them from the list of registered attendees.