A member company tells us how they consolidated over 400 different systems to a single instance of SAP, supported by a captive shared services center.
Talk about a challenge…how about taking 400 systems, located in over 42 countries, multiple business segments, and 10 different languages, with the goal of creating common business processes running on a single instance of SAP and supported by a single global Shared Services center?
That's exactly what a Peeriosity member company has managed to accomplish.
A recent webcast in the Peeriosity Shared Services Leadership research area featured a presentation and discussion on global implementations. We all have our stories; the good, the bad, and usually an ugly thrown in, that we don't like to talk about much, but that we can learn from. Most organizations limit the risk of large-scale roll-outs by focusing on one of the three big levers at a time: Technology, Process, or Organization (e.g. move to Shared Services). Implementing any of these levers will usually yield good results. However, on this webcast, our feature company focused on all three levers and shared what they learned on the way to a successful global implementation.
The company had grown through a series of large acquisitions in different, but related industry segments. Each of these acquired organizations had its own set of processes and systems and, in some instances, had multiple sets of each; the result of acquisitions as well as a highly decentralized structure. The goal was to have a global design that ran on a common instance of SAP but allowed for business segment and country-specific requirements not covered by the base platform. All are supported by a single global Shared Services center.
One of the key initial decisions to be made was which organization, internally, would lead this effort and ultimately support it – and from where. It was decided to create a captive Shared Services organization, located in the US. They would work with an experienced integrator while they simultaneously built the support team to phase out the integrator over time, except for use on country-specific requirements.
The webcast concluded with a sharing of best practices and suggestions on how to implement them. A sample of learning's discussed includes:
Collaboration to identify best practices with other organizations before commencing
Process Simplification Phase with end-users
Training for roles, not tasks
Avoid adapting the new design to the "old way" and "legacy systems"
Additionally, the group talked about best practices on implementation principles, project and change management, as well as post-implementation support and governance. One of the discussions on the use of integrators led to a poll question from a member who was in the planning stages of large-scale ERP implementation. As the results show, very few organizations, in fact, less than 10%, stated that they either completed or are in the process of implementing a major ERP project without the use of an integrator. It is few and far between to see a large-scale ERP project without the use of an integrator in a significant role – at least at the outset.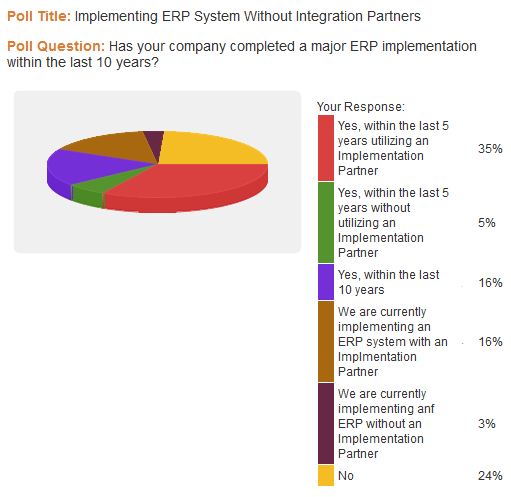 The follow-up question asked by the Peeriosity member about to embark on a global ERP implementation was how satisfied member companies were with the results of their implementation. Using this information (Peeriosity polls identify respondents), the member company project planning team followed up with a number of respondents to gather information on the various integrators that were used by other Peeriosity member organizations. This included overall satisfaction of integrators, geographic strengths, and weaknesses, as well as the methodology used. Additionally, roll-out strategies and change management were also discussed as a means of identifying best practices, as suggested by the original webcast presenter member.
All of this was done by our member company PRIOR to the proposal process and short-list selection of integrators. Imagine how valuable it can be to get information on suppliers PRIOR to sending any RFP's, as well as knowing the key lessons learned from peers before embarking on a project. Peeriosity members have this available at their fingertips whenever they need it. Knowledge is indeed power.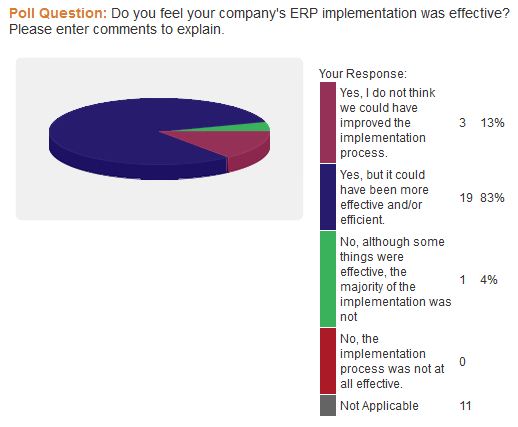 The presenting company's results have been great and they have met all of the goals they set out to accomplish. They now run a single instance of SAP with common processes that allow for local differences, all supported out of an extremely efficient captive center located in the US.
The company that was on the webcast and followed up with poll questions has identified a group of experienced member organizations it is now collaborating with as they embark on their implementation, having absorbed the best practice knowledge from the planning stage.
This conversation continues for Peeriosity members through peer-to-peer connections, polls, discussion threads, webcasts, and shared documents.
What are you working on? What can you learn from your peers who have been there and done that?
Who are your peers and how are you collaborating with them?