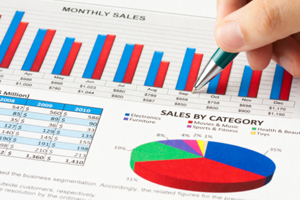 While many organizations have implemented customer portals, many have not realized the full potential of integrating the portal as a part of a wide-ranging Order-to-Cash vision to not only enhance the customer experience but achieve significant cost savings.
For years, Shared Services has integrated a large number of activities within the Procure-to-Pay process, but for many organizations, Shared Services' reach on Order-to-Cash was limited to Accounts Receivable and Credit functions. However, with the maturity of many Shared Services organizations that are effectively separate business units within the enterprise, they have proven their ability to become multi-functional and broader within those functions, and in particular, Order-to-Cash, where many of the activities have traditionally been fragmented and in some cases duplicated.
A recent Peeriosity webcast featured a member company that has expanded the Shared Services' role within the Order-to-Cash process. In addition to traditional services, such as Accounts Receivable and Credit & Collections, they are responsible for Customer Service and Order Management; effectively the customer experience from ordering through payment receipt.
One of the key linchpins to the effectiveness of the Order-to-Cash process is the customer portal. The portal for our featured company on the webcast is real-time information from the enterprise's SAP system. The webcast commenced with a poll of Peeriosity members to determine the utilization status of their customer portals: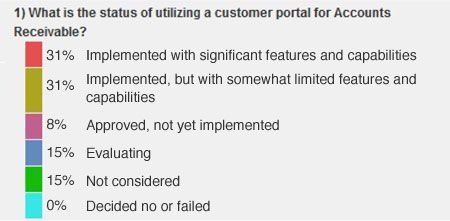 As you can see from the results, 62% have implemented a customer portal with half of those (31%) indicating significant capabilities of the portal. 38% have not as yet implemented a customer portal.
We followed up by asking those with active portals what the biggest challenge is. This had a mixed response, including difficulty in customer adoption (36%), inconsistency internally on approach and functionality (29%), and lack of resources (21%).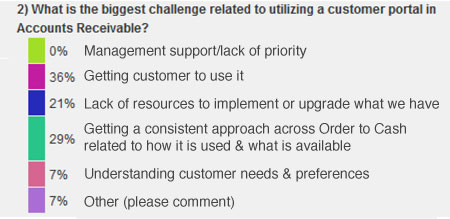 Our feature company introduced their portal to customers in 2004 and has seen steady innovations over the years. The evolution stages can be outlined as:
Stage 1 – Single Product Line Product Catalog and Transaction Visibility
Stage 2 – Additional of Finance Related Transactions and Order Taking
Stage 3 – Expand to other Product Lines and Customer Segments
Stage 4 – Scorecards to Support Account Reviews
Stage 5 – Full Integration with CRM Application
As you can see, this did not happen overnight; in fact, it took 5 years to evolve to Stage Five. In order to progress, the organization had agreed on clear business drivers and objectives that would impact the entire end-to-end process. Those original drivers were (and still are):
Eliminate handling transactions through automation and customer self-service
Reduce the level of resources in use to support transactions
Support business growth without adding incremental resources
Provide better service to our customers (with 24/7 access online or personalized)
Optimize cash flow through clarity with customers on amounts owed, transparent information with reduced cycle time to resolve issues
Reduce Costs – Eliminate paper and the costs to mail it or move it
Competitive differentiator – we are easy to do business with
Collaborative commerce ability
Customers have access to a robust portal that includes product catalogs and information, orders, contracts, chargebacks, finance activities, rebates, scorecards, etc. Customers manage their own users and determine what they have access to. Usually, a customer has someone within their organization granted administrative rights over their account on the portal. They can add/delete users and manage privileges.
An ongoing evolution of the portal is a shared responsibility between the Shared Services Customer Service Team and the E-Commerce and IT groups. Between them, they ensure functionality meets or exceeds customer expectations, information is accurate and available in a timely manner and in a convenient format, and that the portal remains aligned with the objectives and drivers for the Order-to-Cash process.
The webcast discussion included members sharing their best practices on increasing customer adoption of the portal. As the poll indicated (36%), this was the largest obstacle in increasing utilization. Some excellent marketing strategies have been developed by our member companies which have shown some great results.
Our feature company shared their measures of success, which should be considered in the backdrop of an almost 50% increase in sales volume:
32% reduction in customer adjustments on account – improving cash flow
No increase in headcount from the original baseline (note 50% increase in volume)
12% decrease in customer phone contact
Order-to-Cash Process is almost completely paperless
Customers have real-time access to all financial related information associated with their account
How is your company integrating a customer portal into the Order-to-Cash Process vision and reducing costs, improving cash flow, and providing better customer service?
Who are your peers and how are you collaborating with them?