Introduction
Intelligent Automation including Robotic Process Automation (RPA) solutions have become mainstream for large companies with developed Shared Services or Business Services organizations. With thousands of transactions each month with different touch points and multiple system applications for every process area within scope, there can be a seemingly endless list of possibilities to leverage Intelligent Automation tools with expected payback periods often measured in weeks or months.
Creating a structure for setting priorities and managing implementations is critical to ensuring opportunities are evaluated appropriately, and expected returns are achieved.
Company Experiences
A Peercast discussion in Peeriosity's Intelligent Automation research area featured a global company with over $5B in annual revenue discussing their approach to developing and managing the pipeline for RPA and Intelligent Automation projects, with the Director of Finance Data Analytics and Automation leading the discussion and sharing openly with Peeriosity members.
The Finance Data Analytics and Automation team was created in 2020 by bringing together people from different Finance areas who share a passion around processes, automation, and data analytics.  The DA&A's team's goal is to create value for the organization by shifting workloads for staff to issues that are more strategic.
A team of thirty professionals located at three different regional centers focuses on developing solutions by asking the right questions, understanding priorities, and identifying stakeholders.  Tools used by the team include Celonis, RPA, Altreyx, SQL, PowerApps, PowerBI, and OneStream.
The company uses a defined governance process to make sure the team is working on the right deliverables at the right time.  Creating optimal governance and prioritization processes required the company to establish a digital governance team, create a PowerBI dashboard for reporting, and ensure alignment with IT, global processes, and business stakeholders.  Based on a scoring for each evaluation criteria a value score is populated and used to set priorities.
The governance process doesn't end when the project is completed.  An important component is to perform a formal "lookback" to ensure expected benefits are achieved.
For more details, including a list of the fifteen questions used to set priorities, Peeriosity-100 members are encouraged to review the full presentation and listen to the Peercast recording in the Intelligent Automation research area. 
Polling Results Review
To support the Peercast, a poll was created to understand the methods Peeriosity-100 members use to identify and categorize automation opportunities.
The first poll question asked about the methods used to categorize improvement opportunities.  Interestingly the results were evenly split between categorizing based on expected time or cost savings at 45%, and categorizing based on business priorities at 45%, with 10% reporting that they don't have a specific categorization method.  Our feature company used both methods, with one of the first questions asked when setting priorities focused on business requirements as set by either the board or directors, Internal Audit, or company leadership.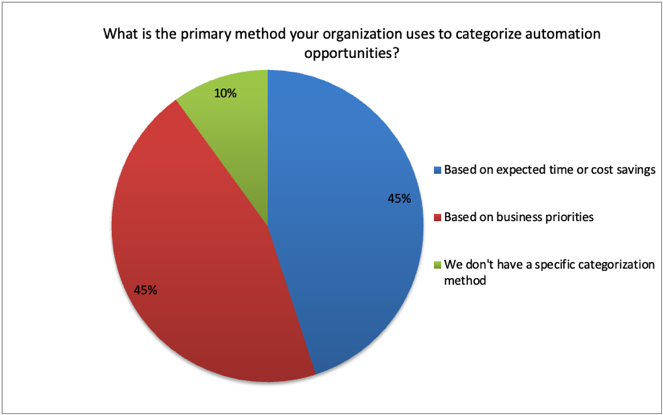 The second poll question asked about the use of a process mining or process discovery tool to identify and prioritize opportunities for automation.  Using these types of tools is new for many companies, with 18% who have implemented, 9% who have attempted and were not successful, and 50% who are currently evaluating the opportunity.  Here are the details: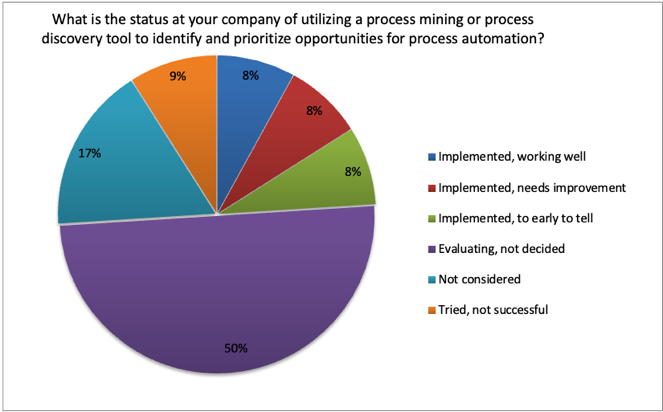 Here are some of the comments from Peeriosity-100 members:
Business Priority is our #1 factor as not everything has a big time/cash savings. Example: If a process will help us meet our month end close by aiding in a process that would have priority as the downstream impacts could be big if not done timely.
We are in the middle of a process mining POC with Celonis. We currently implement based on Business priority, but our intention is to use process mining to uncover those more impactful opportunities.
Return on investment is typically the driving factor for implementing automations.
Closing Summary
With the addition of sophisticated Intelligent Automation solutions comes the necessity for creating processes for opportunity identification, prioritization, project approval, and post implementation review.  Leading Shared Services and Global Business Services have carefully created infrastructure processes to allow them to encourage expansion of Intelligent Automation solutions with the assurance that right projects get prioritized based on the right criteria, and with an important lookback process included to verify expected results have been achieved.
How does your company set priorities for RPA and Intelligent Automation opportunities?  Are you using process mining or process discovery tools to help you identify opportunities?
Who are your peers and how are you collaborating with them?
______________________________________________________________________________
"Peercasts" are private, professionally facilitated webcasts that feature leading member company experiences on specific topics as a catalyst for broader discussion.  Access is available exclusively to Peeriosity member company employees, with consultants or vendors prohibited from attending or accessing discussion content.  Members can see who is registered to attend in advance, with discussion recordings, supporting polls, and presentation materials online and available whenever convenient for the member.  Using Peeriosity's integrated email system, Peer Mail, attendees can easily communicate at any time with other attending peers by selecting them from the list of registered attendees.
"iPolling" is available exclusively to Peeriosity member company employees, with consultants or vendors prohibited from participating or accessing content. Members have full visibility to all respondents and their comments. Using Peeriosity's integrated email system, Peer Mail, members can easily communicate at any time with others who participated in iPolling.
Peeriosity members are invited to log into www.peeriosity.com to join the discussion and connect with Peers.   Membership is for practitioners only, with no consultants or vendors permitted.  To learn more about Peeriosity, click here.