Introduction
An efficient and effective Order-to-Cash (O2C) process is vital to every company's business with a direct impact on revenue and cash flow.  With processes that include the onboarding of new customers and creating new customer records, receiving and recording orders, creating and processing invoices, collecting and posting payments and credits, and resolving disputes and outstanding invoices, multiple stakeholders depend on accurate and timely O2C information.  To be effective, this information needs to include more than a few key high-level summaries, with details that are only visible to individual work teams.
Peeriosity member companies are increasingly skilled at automating Accounts Receivable reporting requirements to eliminate data collection and manipulation tasks to best support efforts to resolve individual issues and understand root causes.  This allows the Accounts Receivable team to spend more time on value-added activities, and it provides other interested parties in the company with the information they need in a format that can be customized to meet their business requirements.
Company Experiences
A Peercast discussion in Peeriosity's Accounts Receivable (O2C) research area featured a global company with over $20B in annual revenue and operations in 20 countries discussing the transformation of their Bill to Collect process by leveraging SharePoint and Tableau Dashboards.  The goal of the transformation was to provide a centralized location to access Accounts Receivable data and to automate the data collection and presentation processes by eliminating time-intensive Excel reports, manual reports, and mass emails to send out information.
Users of the SharePoint portal with Tableau Dashboards include Accounts Receivable analysts, business unit and regional Finance, Credit Management and Treasury, Order Management, and the Field Service Organization.  The Dashboards are used to track open Accounts Receivable balances by the customer, region, business unit, and other segmentations of interest to users. The Dashboards also track Promise to Pays and dispute details and are the sources for customer analysis and quarterly reporting.
For details, Peeriosity members are encouraged to sign into the members' area to view the complete presentation and listen to the recorded Peercast.
iPolling Results Review
Peeriosity's iPolling was used to provide insight into the effectiveness of processes that Peeriosity member companies use for Accounts Receivable tracking in terms of timeliness, accuracy, and meaningfulness of the data provided, with additional insight to the degree that Accounts Receivable tracking is automated.
Regarding the effectiveness of Accounts Receivable tracking processes, 6% indicated that the processes were excellent with 38% reporting that the processes were very good, with needs generally met with few exceptions.  An additional 31% reported that the processes were good but could be improved.  Finally, 25% reported that the effectiveness of tracking processes was disappointing, where the processes are not adequately meeting the needs of internal users or customers.
With regards to the level of automation, 6% report processes that are highly automated with little to no manual intervention, and 50% report processes that are automated with a limited amount of manual intervention, with an additional 19% reporting that processes are an even mix between automated and manual.  Finally, 25% report that their processes are best characterized as being manual with little to no automation.  Here are the details: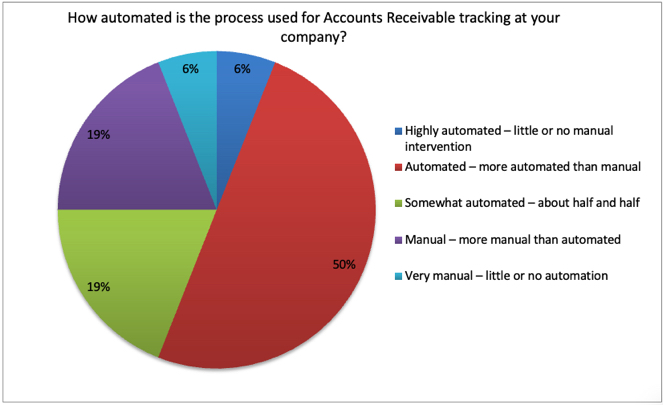 Closing Summary
For many companies, automation and process redesign have dramatically improved Accounts Receivable processes by allowing the Accounts Receivable team to focus on resolving problems with less time on work tasks required to collect and manipulate data for reporting to various internal stakeholders.  And, because reports are more likely to be intuitive and available, there is less re-work as internal stakeholders can take direct action without needing specialized support and assistance from the Accounts Receivable team.
How effective is the process for Accounts Receivable tracking at your company?  What steps have you taken to simplify and automate the Accounts Receivable tracking process, and how confident are you that internal customers and stakeholders are getting the information they need?
Who are your peers and how are you collaborating with them?
________________________________________________________________________
"Peercasts" are private, professionally facilitated webcasts that feature leading member company experiences on specific topics as a catalyst for broader discussion.  Access is available exclusively to Peeriosity member company employees, with consultants or vendors prohibited from attending or accessing discussion content.  Members can see who is registered to attend in advance, with discussion recordings, supporting polls, and presentation materials online and available whenever convenient for the member.  Using Peeriosity's integrated email system, Peer Mail, attendees can easily communicate at any time with other attending peers by selecting them from the list of registered attendees.
"iPolling" is available exclusively to Peeriosity member company employees, with consultants or vendors prohibited from participating or accessing content. Members have full visibility of all respondents and their comments. Using Peeriosity's integrated email system, Peer Mail, members can easily communicate at any time with others who participated in iPolling.
Peeriosity members are invited to log into www.peeriosity.com to join the discussion and connect with Peers.   Membership is for practitioners only, with no consultants or vendors permitted.  To learn more about Peeriosity, click here.