Introduction
While many companies realize significant savings when first transitioning to Shared Services, uncovering additional savings opportunities can be a challenge without the proper focus. One attribute of many successful Shared Services operations is a well-established Continuous Improvement program that is ingrained into the culture of the operation. The topic of Continuous Improvement (or Continuous Process Improvement, CPI) remains one of the most popular in the world of Shared Services, and for good reason.  The strong performance results that companies have experienced over the past few years have been impressive and, for many, having an active Continuous Improvement program has been a significant factor in achieving superior results.
When implementing Continuous Improvement in a Shared Services environment, three different approaches are typically taken.  First is a structured program based upon a formal quality methodology, such as Lean, Six Sigma, TQM, etc.  However, many Shared Services organizations either don't have access to that type of quality program or have decided that they prefer something less formal and structured.  As a result, they develop their own approach to Continuous Improvement based on those tested methodologies, but with their own slant on how they should be applied.  Finally, some companies keep the entire Continuous Improvement effort very informal by encouraging employees to improve processes, without the traditional tools and structure of a formal quality program.
iPollingTM Results Review
Peeriosity's iPolling was used to learn more about Peeriosity member companies' approach to deploying a Continuous Improvement methodology within Shared Services / Global Business Services.  The most prevalent approach is to use a structured program based on a formal quality methodology, although structured internally developed programs are also popular, as are informal programs where employees are encouraged to improve processes. Here are the details: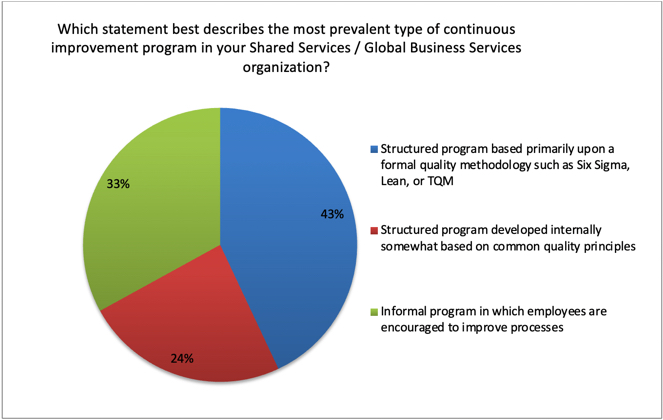 The second polling question addressed the issue of utilizing a rewards & recognition program in association with the Continuous Improvement efforts in Shared Services.  Looking at the poll results, 61% of Peeriosity member companies have implemented this practice with 22% using both recognition and financial rewards and 39% focusing only on recognition. An additional 26% are currently evaluating creating a reward and/or recognition program, 9% haven't considered the idea, and 4% attempted but were not successful.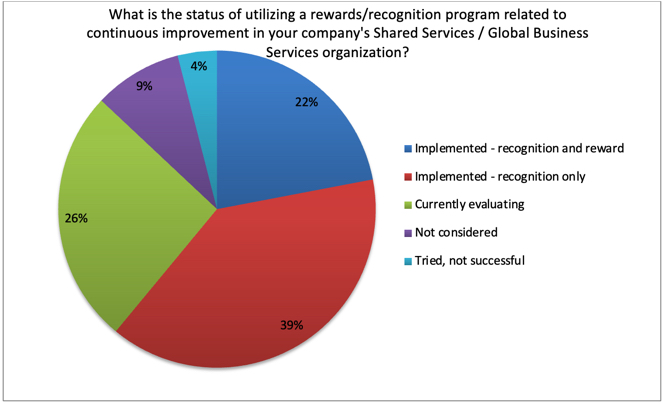 Clearly, when properly implemented and administered, a rewards & recognition program can provide additional energy and excitement around the Shared Services process improvement efforts and will help individual employees to feel that they are part of something much bigger than just their individual roles.
Here are some of the comments from members:
We are in the process of structuring it to a more formal methodology.
We are standing up for our Global Shared Services, but Process Improvement is one of the core capabilities right from the start. Our program is intended to be largely lean-based but will blend tools as appropriate. Improvement is built into our goals to drive alignment and priority. Recognition will be routine; however, we have not yet determined the reward structure that will be used outside of regular merit processes.
We have launched a program to cultivate a lean mindset across the organization by recognizing and incentivizing the best project in each category. For Peeriosity members, attached is an overview to our program, "GBS Manila Lean Six Sigma Project Contest Mechanics.pdf".
Closing Summary
Achieving improvements in performance for Shared Services / Global Business Services includes a mix of many factors including sourcing decisions (captive or BPO), labor arbitrage opportunities, and the deployment of advanced technologies including sophisticated Intelligent Automation solutions.  Yet, if underlying work processes need to be fixed, adding technology or lower-cost labor resources won't achieve optimal results.  Implementing a disciplined approach to Continuous Improvement is a requirement for superior performance.  While many approaches are possible, companies that follow a structured approach are more likely to get better results than those that rely on informal programs.  In addition, when combined with a formal reward and recognition program, everyone in the organization will be motivated to get involved and be part of the improvement process, which will increase the positive impact of your improvement program.
What approach does your Shared Services organization take regarding Continuous Improvement?  Are you satisfied with the results or is it time to take another look at this important aspect of your operation?
Who are your peers and how are you collaborating with them?
_______________________________________________________________________
"iPolling" is available exclusively to Peeriosity member company employees, with consultants or vendors prohibited from participating or accessing content. Members have full visibility of all respondents and their comments. Using Peeriosity's integrated email system, Peer MailTM, members can easily communicate at any time with others who participated in iPolling.
Peeriosity members are invited to log into www.peeriosity.com to join the discussion and connect with Peers.   Membership is for practitioners only, with no consultants or vendors permitted.  To learn more about Peeriosity, click here.