Introduction
Companies in all industries are looking for ways to transform underlying work processes, including increased flexibility and agility for how they provide services to their employees, customers, and vendors. One software solution for query management and workflow that has gained prominence in the past five years is ServiceNow.  Because Peeriosity is founded on creating interactions between peers who are all practitioners, without any participation or influence from consultants or vendors, members are able to candidly discuss their experiences with any number of possible solutions, including the use and satisfaction of solutions from ServiceNow. 
iPollingTM Results Review
Recently, Peeriosity's iPollingTM was used to better understand the experiences of Peeriosity members from using solutions from ServiceNow.  As background to the poll, the poll author added this statement: 
"Currently, internal and external queries into our Shared Service centers are managed through email boxes. We are looking to implement ServiceNow for query management and workflow. We are looking for the level of satisfaction regarding ServiceNow and similar tools."
The first of two questions in the iPoll asked how Peeriosity member companies were managing Shared Service inquiries and workflow.  The results were impressive, with 60% of member companies using ServiceNow, 12% managing queries through email, 8% using tools within SAP, and the remaining 20% using various other approaches and solutions.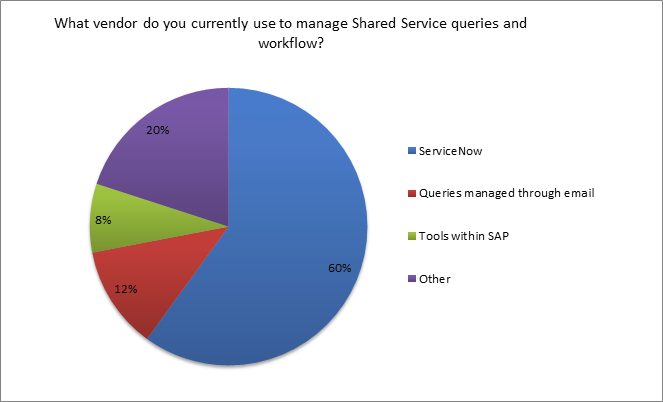 The second polling question asked about the overall level of satisfaction the Peeriosity member company experienced with the vendor selected.  The results indicated that 13% were very satisfied, and an additional 43% reported that they were satisfied.  While 9% indicated it was "too early to tell", of concern were the 22% who indicated they were indifferent and the 13% who indicated that they were unsatisfied.  Here are the details: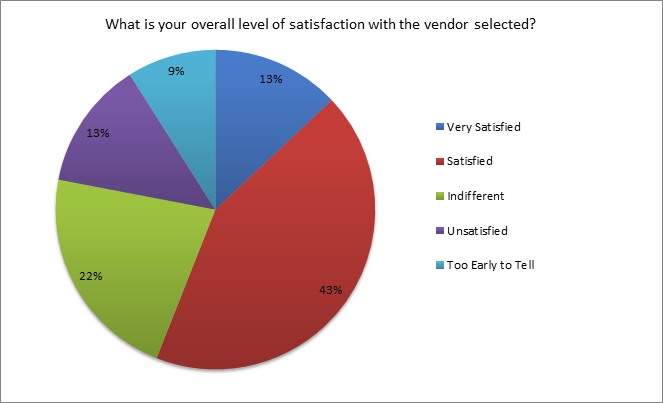 Here are a number of the comments added by members:
We've had great success and adoption by our workforce utilizing ServiceNow for case management, workflow. It's very configurable, and intuitive and can become a destination for employees seeking information or initiating requests. It's a great tool for measuring SLAs and productivity.
We are satisfied with ServiceNow
We have email addresses that feed into ServiceNow for inquiries that are handled by our service provider. We struggle with multiple tickets for the same topic. If someone doesn't reply with the ticket number in the header, it creates a new ticket. Not sure if a system setting, but if multiple people are copied the ticket number doesn't go to each person for reference. As the information comes from an email, there are several fields that the team has to populate. A template would be ideal. We still have work to do on this topic.
Satisfied but licenses under our agreement are limited so be mindful of how the agreement is structured.
We've just recently implemented ServiceNow for HR shared services inquiries only. Inquiries for Financial shared services come in via e-mail while we evaluate moving to ServiceNow as well.
We are at the start of implementing the SAP Shared Services Framework. It is too early to give any feedback.
We were using ServiceNow and satisfied; however, we are moving to PEGA and in the midst of transition.
We use ServiceNow across all GBS services in the company (HR, Customer, Vendor, Master Data, Accounting, Corporate Cards, etc.). It is also the platform of choice for our IT team. We are currently working on a major re-platforming of our whole Service Now eco-system. Plenty of learnings from this and happy to chat through them!
Use ERMS within the CRM module of SAP.
ServiceNow is a good tool, but you have to devote a fair amount of time to configure it.
Closing Summary
With so many options for process design and implementation of new technologies, having direct insight into the actual experiences of peers at leading companies is the best possible way to understand the nuances of how to make the selection, and even more importantly, how to implement to achieve the best possible outcomes. Peeriosity is the only professional best practice research company in the world that gives you the ability to make this happen for any topic and any issue that is currently most important to you.  Not only do you get insight into individual company experiences, but you can also follow up directly with peers for additional discussion and interaction using our proprietary Peer Mail capabilities, or if you like, forming connections to get access to the underlying email address and phone number information.  With Peeriosity, there is no reason to "go it alone", or "make the best guess", or "rely on the potentially biased advice of consultants or vendors" (with the associated price tag and never-ending follow-up sales calls). 
How does your Shared Services organization currently manage inquiries and workflow? If you have selected a vendor, how satisfied are you with their products and services?  
Who are your peers and how are you collaborating with them?
______________________________________________________________________________
"iPollingTM" is available exclusively to Peeriosity member company employees, with consultants or vendors prohibited from participating or accessing content. Members have full visibility of all respondents and their comments. Using Peeriosity's integrated email system, Peer MailTM, members can easily communicate at any time with others who participated in iPolling.
Peeriosity members are invited to log into www.peeriosity.com to join the discussion and connect with Peers.   Membership is for practitioners only, with no consultants or vendors permitted.  To learn more about Peeriosity, click here.