Introduction
With the use of such tools as automated feeds from card providers, improved T&E processing software, and the use of appropriate receipt submission requirements, companies are often able to meet the regulatory requirements for substantiating business expenses without sacrificing processing efficiency.  On a recent Peeriosity PeercastTM, a Peeriosity member company shared their approach to the T&E receipt issue as a whole and what they have done to simplify what can often become an overly complex activity.
Company Experience
The PeercastTM featured a member company with over $10 billion USD in annual revenue and over 15,000 employees, that had recently brought back in-house their corporate card process from an outsourcing provider.   They are utilizing the SAP Concur system and have the Visa card provided by US Bank with 2,000 expense reports processed per month.  They only allow one expense report from their travelers each month and that is submitted in conjunction with their card billing cycle.
The company's receipt requirements are as follows:
All cash and out-of-pocket over $25 USD
All card transactions over $75 USD
All hotel transactions (itemized folio required with the room rate and tax)
All receipts are required for Canadian cardholders for tax purposes
The company uses the Concur Mobile App and Concur e-Receipts to simplify the receipt submission process for their cardholders.  They audit 25% of the expense reports and utilize the standard Concur audit functionality, as well as Concur Detect, to do so. Their audit rules include the following:
Reports with Cash Reimbursement >$500 USD
Reports with Amounts due from Employee (Personal Expenses)
Reports with Credit Card charges totaling  more than $15,000 USD
Reports with Disputed Fraudulent Charges
Reports with Personal Car Mileage
Reports with Canadian Charges
Reports with Non-Travel Meal Expenses greater than $100 USD
Reports with Gift or Contribution Expense Types
Future plans in the area include improving the past due reports process, reducing the number of expense types, requiring receipts at the line item level, reducing manual audits, consolidating to one global T&E program, improving the personal car mileage process, and increasing mobile adoption.
Additional details about the company's experiences in this area are available on the Peeriosity member website, including the original presentation material, detailed poll results, and PeercastTM recording.
iPollingTM Results Review
A poll was created using Peeriosity's iPolling technology in conjunction with the PeercastTM and it provided some interesting findings.  The first question asked from the travelers' perspective, is how would they characterize the receipt policy and process at their company?  The vast majority (73%) of the companies responded that the overall receipt process was good, with no major complaints from travelers.  Another 20% indicated that it was cumbersome and needed improvement, while just 7% said it was great, being simple to comply with.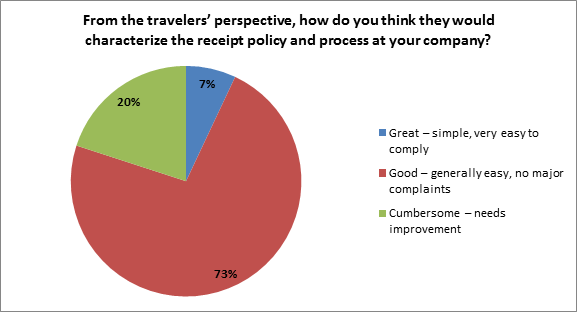 The second poll question then asked about what best describes where the companies are today with their receipt policy and process.  Just 46% of companies are satisfied with their current receipt policy and process, with 13% of those having made recent changes and 33% that have not.  The majority of companies (40%) say they have room for improvement in this area and plan to make changes soon, while the remaining 14% need to improve the policy and process, but currently have no plans to do so.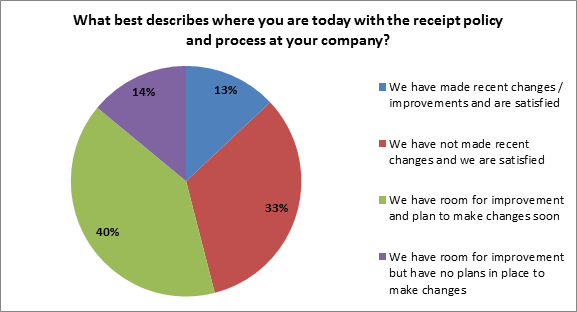 Some of the comments made by Peeriosity members related to this poll include the following:
Healthcare, Pharmaceuticals, Biotech Member: Recent changes expanded electronic submission of receipts to nearly all countries.  This improvement makes receipt submission very easy.  The only confusion we typically see from travelers is a requirement to submit itemized receipts for meals and not credit card receipts with total only.
Consumer Products & Services Member: Plan to attach only at expense level, no more header level receipts.
Healthcare, Pharmaceuticals, Biotech Member: My responses are mainly from a US user perspective, as receipts in non-US markets are required for all expenses, for VAT purposes.
Consumer Products & Services Member: We use Concur and have limited success with their Expense It mobile app (would love to hear other's perspectives on how the tool works for them). Our receipt threshold is $25 and we have considered raising it.
Energy & Utilities Member: We use Concur and automated feeds from the bank. Travelers are fairly happy with the tool.
Consumer Products & Services Member: We use Concur; generally satisfied.
Closing Summary
While receipts continue to be an important part of the Travel Expense process, significant improvements in technology, such as mobile apps, have made a significant favorable impact on simplifying this important process.  As companies continue to improve their processes and relax receipt requirements, where feasible, cardholder satisfaction should continue to improve in this area.
How effective is your current T&E receipts process and policy?  Is there some aspect that could be improved?
Who are your peers and how are you collaborating with them?
______________________________________________________________________________
"PeercastsTM" are private, professionally facilitated webcasts that feature leading member company experiences on specific topics as a catalyst for broader discussion.  Access is available exclusively to Peeriosity member company employees, with consultants or vendors prohibited from attending or accessing discussion content.  Members can see who is registered to attend in advance, with discussion recordings, supporting polls, and presentation materials online and available whenever convenient for the member.  Using Peeriosity's integrated email system, Peer MailTM, attendees can easily communicate at any time with other attending peers by selecting them from the list of registered attendees. 
"iPollingTM" is available exclusively to Peeriosity member company employees, with consultants or vendors prohibited from participating or accessing content. Members have full visibility of all respondents and their comments. Using Peeriosity's integrated email system, Peer MailTM, members can easily communicate at any time with others who participated in iPollingTM. Peeriosity members are invited to log into www.peeriosity.com to join the discussion and connect with Peers.   Membership is for practitioners only, with no consultants or vendors permitted.  To learn more about Peeriosity, click here