Introduction
Even with a decade or more of experience, in performing Intercompany Accounting from within a Shared Services structure that includes a global scope (although often delivered through regional centers), the one process that is fully self-contained, Intercompany, continues to be a challenge to deliver efficiently for many leading companies.  Even though the scope is within a company, because it represents all internal payable and receivable activities between legal entities, transactions for materials and services can touch almost any department.  With personal performance incentives and business funding decisions dependent on business unit performance, the discussion quickly escalates beyond the logic and rules-based structure of accountants and process owners, who have an interest in delivering an efficient and effective process, but who aren't personally accountable or impacted by the measured performance of a business unit. 
Certainly, reporting structure can make an impact, for example being part of a global Shared Services organization that has "a voice at the table", can have significant advantages over being a centralized accounting process that's viewed as a support function, or a process where there isn't clear ownership.  Unfortunately, once the decision-making process is clear, there are many other considerations to creating smooth processes that work efficiently, and, hopefully, automatically, without the need for rework or complicated approval processes.
iPollingTM Results Review
Recently a Peeriosity poll was created by a member to better understand this issue, with the added benefit of identifying a group of peers with experience for additional dialogue.  The following comments were added as background to the issue:
"Within our organization, we have a challenge in defining what a good end-to-end Intercompany process looks like. The primary reason for this is linked to the fact we have multiple handoffs between many impacted internal functions who have a role to play in its running. This has ultimately led to an inability to assign one specific group that is accountable to own it. "
The first poll question considered the issue of organizational alignment, and specifically who the primary owner of Intercompany Accounting is.  For 82%, the primary organization is a General Accounting or Record-to-Report process that resides within Shared Services.  The balance of 18% was evenly split between a Headquarters Finance function and not having a clear primary owner for the Intercompany Accounting process.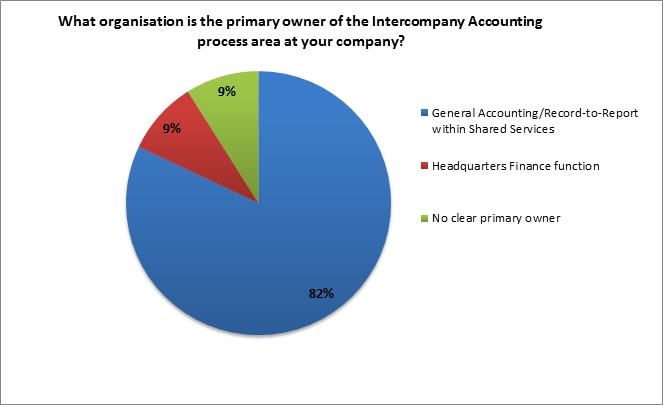 The second poll question looked at the biggest challenges facing the company's Intercompany Accounting process.  Not surprisingly, for 32% the biggest issue is the complexity created by having multiple ERP systems and the impact that has on process automation.  Interestingly, the issue of process ownership was the most significant factor for 21% of companies, which suggests that, even when Intercompany Accounting is within a Shared Services or Headquarters Finance function, process ownership continues to be a primary obstacle.   For the balance of responses, 16% reported the biggest challenge is poor data which leads to downstream system errors, 5% struggle with burdensome regulatory requirements, and 21% cited a variety of other reasons.  Here are the details: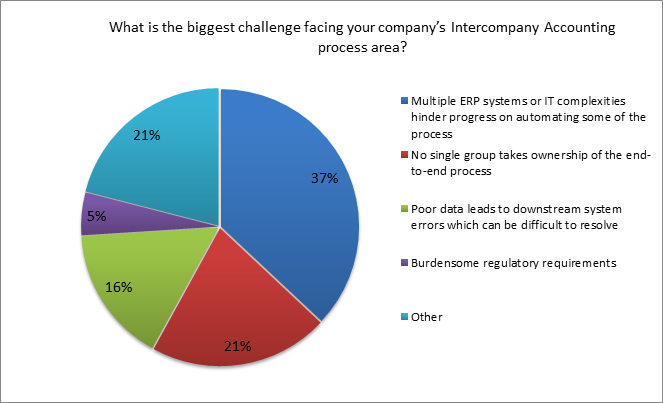 Below are a few of the comments from Peeriosity members:
In the last few years, we increased our Intercompany oversight through a cross-functional Finance team and Steering Committee. This has resulted in numerous improvements to our process and allowed for faster reactions to IC issues.
Intercompany process crosses multiple areas – Corporate HQ, a Department within Corporate HQ, Regional Companies, and Customer Master Teams. There is a single process owner to coordinate activities among all the groups.
We have clear ownership defined but we have trouble aligning our complex system setup in SAP with the business requests for new transaction routes. There is support from senior leadership, but just a general lack of awareness in the business around the complexity that these types of transactions bring – as well as the (often manual) work involved, even if it is just to monitor and troubleshoot.
HQ Finance – Process Controls by Global Intercompany Accounting Expense Manager; System validates relationships prior to processing entries into General Ledger.
We need the ability to book both sides of the entry and establish a true-up/arbitration process for discrepancy resolution.
The process works overall pretty well, only issues when certain postings are not automatically generated in the system. That leads to potential reconciliation differences, delays, and inefficiencies.
We have a standard process, but still, too much manual work since manual Intercompany billings need two transactions in our system. No automation between them and the approved documents for the charges.
Closing Summary
Many companies have made significant improvements to their Intercompany Accounting processes, driven both by stronger process ownership, and the implementation of ERP systems that help eliminate errors resulting from broken interfaces or inaccurate data feeds.  Yet, this is also an area where companies continue to struggle, where the effort required and the costs for processing are excessively high given the nature of the underlying transactions, which are all internal to the company. 
Given the right attention, broken processes can be repaired.  However, the more difficult issue is getting decision rights to set policy, when senior leaders of business have a vested interest in the outcome, particularly with how it impacts how their performance is viewed and rewarded.
What organization has primary ownership of the Intercompany Accounting process at your company?  What are the biggest challenges you face to make improvements to the Intercompany Accounting process?
Who are your peers and how are you collaborating with them?
______________________________________________________________________________
 "iPollingTM" is available exclusively to Peeriosity member company employees, with consultants or vendors prohibited from participating or accessing content. Members have full visibility of all respondents and their comments. Using Peeriosity's integrated email system, Peer MailTM, members can easily communicate at any time with others who participated in iPolling.
Peeriosity members are invited to log into www.peeriosity.com to join the discussion and connect with Peers.   Membership is for practitioners only, with no consultants or vendors permitted.  To learn more about Peeriosity, click here.