Introduction
The basic principles of Shared Services are to transition work from multiple locations to a centralized location, where centralized delivery is accomplished by a business that is responsive to customer needs, rather than a traditional view of centralization that implies a costly and inflexible bureaucratic structure. Some companies have gone so far as to deliver certain processes globally from one location, and many companies have successfully implemented regional models, where one center supports activities for a large region of the globe that includes multiple countries in a region.
If companies are now so good at performing Shared Services long distances from customers, does it really matter how close work teams are, and whether or not they are in the same building, on the same floor, or in the same city? Our research shows that when you consider the impact on culture, service, productivity, and leadership, creating a cohesive and high performing team can be impacted by where work teams are located, and the approaches available to communicate within a team and between work teams.
iPollingTM Results Review
Recently a Peeriosity poll was created to better understand how leading companies approach this issue.  The first poll question looked to understand the amount of separation that existed for work teams.  The results indicate that while 28% are located in the same facility with an additional 4% in multiple facilities in the same vicinity, 60% are located in facilities that are spread out, where there isn't easy access between facilities.  Finally, some report pockets of separation, where some processes aren't all together, or where another facility exists in a different city in a region as a way to take advantage of a lower cost structure for certain work activities.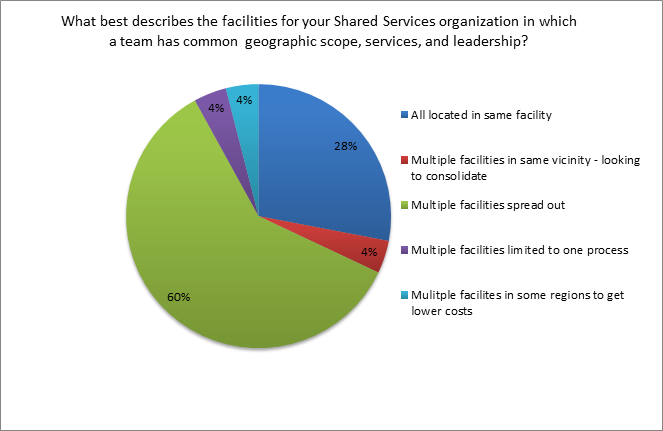 The second poll question evaluated the impact of the separation, with 34% of Peeriosity member companies indicating that the issue was significant, and that it needed to be actively managed. An additional 24% indicated that the issue was "somewhat significant", with certain interactions that needed to be actively managed.  Another 24% indicated the issue was moderate where a modest amount of additional effort was required, and finally, 18% saw little to no impact on being in different locations on the cohesiveness of the team.  Here are the details: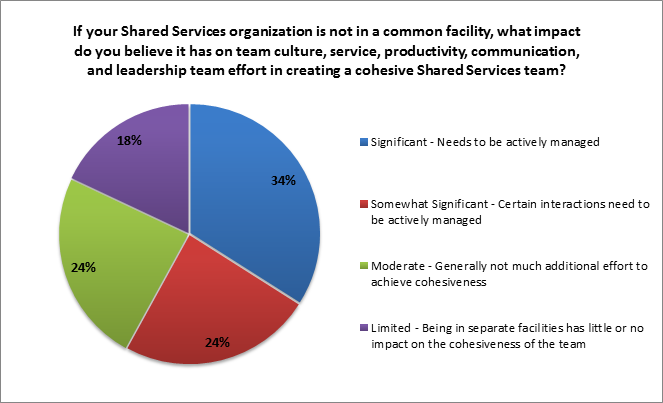 Below are a several of the comments from Peeriosity members that provide additional insight:
We represent the North American Region with staff in four locations. We have daily communication and a monthly meeting. It works very well.
The biggest impact is process fragmentation. Standardization is very difficult.
We have Shared Service offices in the countries that they serve. There's no consolidation in which one location provides services for another country (except North America). Perhaps this will evolve over a medium-term, if local labor laws and office politics can be effectively navigated.
The one exception to a common facility is for the AP process where we have two service centers, one in Sacramento and one in Phoenix.
Daily huddles via Skype or other audio/visual technology.
Governance function is all in one site. Our outsource provider (processing) is in several facilities. The separate facilities can have different cultures (sometimes due to legacy ownership and processes).
We have 2 primary sites in Malaysia and India. No plans to consolidate as we do not have issues with cohesiveness and the multiple sites help to mitigate the challenge of disaster recovery if ever needed.
In two of our five regions we have a second location. In the Asia Pacific region, the second location was established in China in a lower cost area to reduce costs for the more clerical processes. In the North America region, we have a small, legacy satellite operation that houses Payroll specialists.
Biggest impact is lack of standardization from accounting and reporting standpoint. Our current Shared Service Center design does benefit from a customer facing perspective.
We ensure there is a cohesive environment to support the Shared Services environment. The Directors meet weekly to recap any issues, changes in processes, communication, etc.
Closing Summary
Creating a cohesive team and paying attention to issues of culture, service, productivity, and leadership is impacted based on where teams and team members are physically located, and how they are able to communicate with one another. Being aware of the issue is an important step toward determining approaches to make improvements. At Peeriosity, members have visibility to the approaches of leading peers, with the opportunity to follow up directly with peers confidentially to understand and learn from their experiences.
Within an existing Share Services center, how close are your facilities, and what is the physical proximity of work teams and individual team members? Is this an issue that is clearly understood and addressed?
Who are your peers and how are you collaborating with them?
"iPollingTM" is available exclusively to Peeriosity member company employees, with consultants or vendors prohibited from participating or accessing content. Members have full visibility to all respondents and their comments. Using Peeriosity's integrated email system, Peer MailTM, members can easily communicate at any time with others who participated in iPolling.
Peeriosity members are invited to log into www.peeriosity.com to join the discussion and connect with Peers. Membership is for practitioners only, with no consultants or vendors permitted. To learn more about Peeriosity, click here.