Introduction
With a large number of major corporations now actively utilizing Intelligent Automation, it is important to ensure that Internal Audit is included appropriately in the development and implementation activities of this powerful technology.  With the introduction of Intelligent Automation comes a set of new challenges in the critical area of audits and controls, with new risk scenarios to assess, including the proper segregation of duties.  How and when companies are addressing these risks is the focus of this research abstract.
iPollingTM Results Review
A recent Peeriosity poll developed utilizing the iPollingTM technology sheds some light on the role of Internal Audit at a number of companies actively engaged in the development and implementation of Intelligent Automation.  The poll question asked at what point was Internal Audit first involved in the development and implementation of the company's Intelligent Automation (RPA, AI, etc.) technology.  The responses cut across the entire answer key, with the most popular being during the proof of concept phase (25%), at project inception (20%), and during the identification phase of processes to be automated (20%).  Also, for 25% of the companies, Internal Audit had no involvement in the development and implementation of this technology.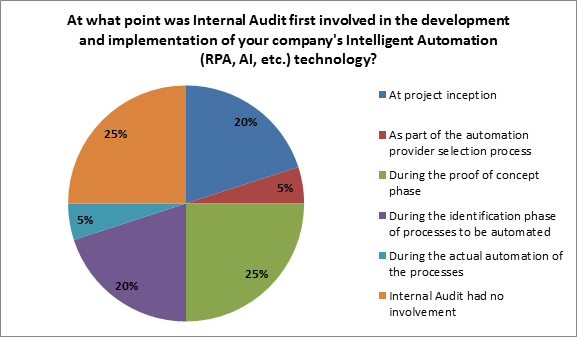 Some of the comments from Peeriosity members related to this poll include the following:
Wholesale & Distribution Member: Internal Audit provided recommendations since project inception.
Healthcare, Pharmaceuticals, Biotech Member: Didn't include an internal audit at the beginning of our RPA roll-out. Although that is a great idea!
Consumer Products & Services Member: We are still in the pilot phase. Once the pilot is finalized, we will involve Internal Audit of the findings.
Healthcare, Pharmaceuticals, Biotech Member: "Bot" credentialing and systems access for SarBox compliance. Also sought their input on structuring our governance model.
Closing Summary
Clearly, based on the variety of approaches of companies in this area, there is not yet one clear entry point for Internal Audit in safeguarding the controls related to the use of Intelligent Automation technology.  This will likely continue to evolve as companies strive to streamline how this technology is best developed and implemented into their operation.
What is the status at your company with respect to involving Internal Audit in the development and implementation of Intelligent Automation?  Is your current approach meeting your needs or should this critical area of control be more closely reviewed?
Who are your peers and how are you collaborating with them?
 "iPollingTM" is available exclusively to Peeriosity member company employees, with consultants or vendors prohibited from participating or accessing content. Members have full visibility of all respondents and their comments. Using Peeriosity's integrated email system, Peer MailTM, members can easily communicate at any time with others who participated in iPollingTM.
Peeriosity members are invited to log into www.peeriosity.com to join the discussion and connect with Peers.   Membership is for practitioners only, with no consultants or vendors permitted.  To learn more about Peeriosity, click here.