Several viable alternatives exist for efficiently managing Purchasing Card ("PCard") receipts, each with its own set of advantages and disadvantages. A recent Peeriosity webcast within the Corporate Card research area highlighted some of the best practice methodologies that a number of our members have implemented, realizing both cost savings and increased compliance.
A poll of participants indicated there are a few different practices in regard to receipt management. Currently, 32% are sending original physical receipts to a central location, while 27% are maintaining original receipts within a department or business unit.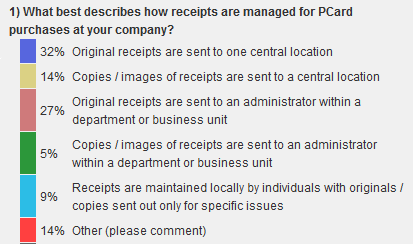 The follow-up poll question related to the biggest challenge in managing receipts and, as you can see from the even dispersion of the results, challenges abound: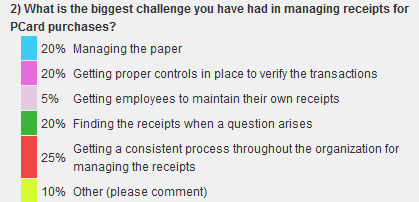 The webcast was highly interactive and it was apparent that the use of technology as an enabler to improve the process was a high priority at many organizations within the Peeriosity membership. Many indicated that they have converted, or are in the process of converting, to paperless receipt management systems that will drive efficiency and significantly improve compliance. Many others indicated that while they realize solutions exist, it was difficult at best to make the business case for a transformation at this time.
Our webcast feature company is one of those organizations that reviewed their entire "Card Management" work processes and, within approximately one year, revised the methodology completely. One of the catalysts for the initiative was a receipts assessment and audit done in conjunction with their internal audit group. The results identified (and confirmed) that not only were there opportunities for increasing the receipt compliance rate (running in the low 70% range), but that there were savings to be realized as well.
Many of those on the webcast had already taken the steps:
Merging their PCard and T&E Card to a single card solution
Using a PCard general ledger interface tool
Our feature company took these practices a step further and implemented the following:
Integrating the card system tools into employee's desktops via their ERP (SAP)
Linking transactions linked to AP
Utilizing the SAP Trip Database
Using Automated Analytics (Risk identification, Reporting, Opportunity identification)
Employing targeted communications on the card system and use
Utilizing Employee Expense Review Team & Security Linkage
Implementing a formal pro-active notification system (automated) with escalation for non-compliance
Having alternatives for file management of receipts including imaging, local filing, or centralized (depending on criteria).
The discussion also identified some organizations that have extended their PCard as an option for all vendors as a payment option.  Through their bank and an integrated program to their ERP, some have found this a great opportunity for both the vendor to be paid quicker, as well as the companies possibly receive an early payment discount and additional PCard rebates.
Our feature company successfully completed a transition of their program to achieve some great results including:
Reduced administration costs
Easier use of the program by employees
Increased rebates
Higher compliance rate (over 95%)
Immediate access to back-up
What initiatives are you currently working on to transform your Card Management?
Who are your peers and how are you collaborating with them?