Companies put a great emphasis on developing support models for their external customers. But what about support models for the internal customers who execute all of the activities to deliver value to the external customer? As Shared (or Business) Service organizations continue to expand into multiple functions and expanded geographies, many organizations have found that a common internal Customer Support Model across all of their services can greatly enhance their service delivery, as well as provide valuable insights on where to focus resources and improvement efforts for the greatest impact.
For instance, customers of  Shared Services can contact the same help desk for a technology problem or a "how-to" process question such as setting up a new vendor or scheduling agreement. Customers no longer have to self-diagnose problems to guess who they need to contact – Shared Services can have a fully integrated customer support model that includes a help desk and case management system.
In reviewing the information found within Peeriosity For Shared Services' on this topic, a great number of insights came to light quickly. From iPolling, we can see that the majority of companies have not yet considered utilizing a single help desk across their Shared Services organization. However, 38% have implemented this structure and another 8% have approved doing so. Note that using Peeriosity iPolling, members can easily see those companies that have accomplished this.
One of those Shared Services organizations utilizing a single help desk has an archived webcast located in the Peeriosity Shared Services Leadership research area in which they describe the inner workings of their "Customer Support Model".  It provides first contact (help desk or functional team member), response, case and project management, and reporting across a multi-functional Shared Services organization that provides company-wide services in the following functions:
Accounting and Finance Services
Information Technology
Process Management
Project Management
Knowledge Management
Human Resources Services
The company featured on the webcast indicated that their customer support model for multi-functional Shared Services evolved from the Information Technology support model and leveraged their help desk and case management system. The methodology expanded beyond Information Technology first through parts of the Accounting and Financial Services organization. Customers were given the Help Desk contact information (phone, e-mail, portal), however, they were not precluded from contacting directly the people within the Shared Services functional teams as they had in the past. Those relationships were deemed important for customer satisfaction. However, any item received directly outside the help desk that required a hand-off or could not be answered immediately on the contact is required to be input into the case management system.
The objective is that all queries that result in an action item must be logged into the case management system, effectively moving to-do lists off of the individual's personal tracking system (usually their e-mail inbox!) to a central tracking system. By using the tracking tools, department managers can coordinate work and resources, as well as compile a complete database of exactly what customer issues are.  They can then analyze to identify where in the process a defect exists that resulted in a touch-point.
The case management software is easy to use and accessible by all Shared Services employees that have customer contact or work on case resolution. The case inflow can be depicted as follows: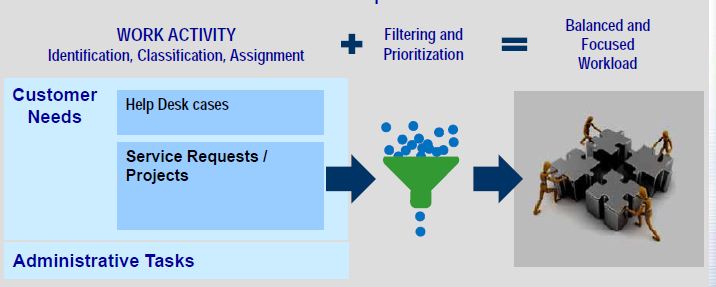 The feature company indicated that the greatest benefit of a coordinated multi-functional Customer Support System is the visibility and related information. The root cause of contacts can be quickly analyzed and trends can easily be identified. For instance, an increased number of contacts from a location may indicate a training issue, possibly related to employee turnover. The Knowledge Management Team can follow up and suggest the necessary training. Also, technology and process issues may be identified quickly based on an increase in cases related to an item.
To take advantage of the visibility across functions, there is fairly extensive, yet simple, reporting for all functions within Shared Services, including the examples below:
Daily Reports
Case by Cause (with trends by cause)
Over 5-day report
2 Days report (without status given to the customer)
Case Backlog (by team and person)
Weekly Reports
5 Day Trend Analysis
Case and Project Aging (Cases meeting certain criteria such as time and expertise required become projects)
Team by Team Case Reports
Monthly Reporting at Team Leaders Meeting
Top 3 cross-functional issues (review action plan and progress)
Top 3 issues by team (review action plan and progress)
Review Top Issues by Root Cause:

Process Issues
Knowledge/Training Issues
Technology Issues

Response Times
Quality of Response
Customer Feedback
The results have been exceptional. Internal customers have one place to call (or use the portal) while they still have access to those partners in the business they prefer to talk to directly. In either case, the issue is fully documented (the customer has access to see the progress of their case and estimated resolution time). They appreciate the ease of use, visibility, and quick coordinated resolutions. Additionally, the information collected across functions facilitates the assignment of resources to continuous improvement efforts that will yield real and measurable results in not only resolving customer issues but fixing (or eliminating) the root cause and making processes more efficient.
There was much more to be found in Peeriosity's research on this topic, including how Shared Services organizations connect the Project Management Office to the Case Management System (including preferences on software) and manage overall customer expectations related to issue resolution and projects. The discussion continues online at Peeriosity where all content is archived and easily researched with access to the experience and knowledge of your peers just a click away.
How is your Shared Services organization's customer support model driving increased customer satisfaction and continuous improvement?
Who are your peers and how are you collaborating with them?