Poll Title:
Driving Shared Services Success with Innovative Organizational Design
Background: A significant number of Shared Services organizations utilize unique organizational designs and have experienced excellent results in improving not only the overall performance of their operation, but also the satisfaction level of their employees. This poll looks at organizational factors that are considered important to success and an assessment of how satisfied companies are with their current Shared Services organizational.
Poll Question:
What is the most significant factor related to organizational design at your company that has helped Shared Services to be successful?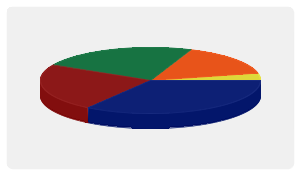 Vote Now
| | | |
| --- | --- | --- |
| | Implementation of Global Process Owners | 38% |
| | Utilization of a matrix reporting relationship in conjunction with end-to-end process design | 25% |
| | Making Shared Services an autonomous operation within the company | 21% |
| | Utilization of a team-based structure | 17% |
| | Other (Please Comment) | 0% |