Poll Title:
Providing Enterprise Reporting Services in a Shared Services Environment
Background: Enterprise Reporting Services partners with the business units and functional organizations to ensure they have the reporting platforms, tools, and support necessary to perform their work more efficiently and effectively. Having this role as a part of Shared Services is often a natural fit for companies since it lends itself to being performed in a consolidated environment utilizing advanced technology. This poll looks at the status of having an Enterprise Reporting Service offering and how well it is being utilized at companies today.
Poll Question:
What is the status of having Enterprise Reporting Services as part of your company's Shared Services service offering?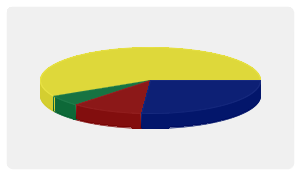 Vote Now
| | | |
| --- | --- | --- |
| | Implemented | 26% |
| | Approved, not yet implemented | 11% |
| | Currently Evaluating | 5% |
| | Evaluated and Denied | 0% |
| | Not Evaluated | 58% |
| | Tried, implementation not successful | 0% |