Poll Title:
Utilizing Continuous Improvement in Record-to-Report (R2R)
Background: Once all the breakthrough successes have been achieved through major process re-engineering efforts and the implementation of the latest technology, companies can tend to be satisfied with their achievements to that point in time. However, the benefits of implementing a Continuous Improvement program are well-documented and companies should not overlook this opportunity to continue to build upon their prior successes. This poll looks at how companies utilize a formal Continuous Improvement program within Record-to-Report.
Poll Question:
Which response best describes how a formal Continuous Improvement program is utilized within your company, specifically in the Record to Report process?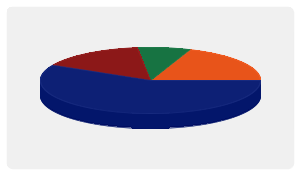 Vote Now
| | | |
| --- | --- | --- |
| | Engrained in our culture; used routinely in Record-to-Report | 58% |
| | Important to our culture, but used less often or less effectively in Record-to-Report | 15% |
| | Utilized in our culture, but not very much in Record-to-Report | 8% |
| | We do not have a formal Continuous Improvement program | 19% |