Poll Title:
Approach in Finance & Accounting to Integrating New Mergers & Acquisitions
Background: Depending on a number of factors, such as company size, financial systems, and the terms of the purchase agreement, integrating new entities as the result of M&A activity can be a new challenge each time they take place. This poll looks at how companies typically approach this type of integration and the degree of standardization in this area.
Poll Question:
From a Finance & Accounting standpoint, which response best describes your company's typical approach to integrating new mergers/acquisitions?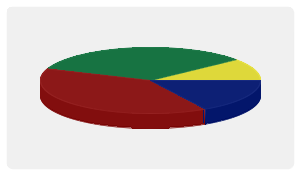 Vote Now
| | | |
| --- | --- | --- |
| | New entities are fully transitioned as soon as possible after deal is closed | 17% |
| | Some key aspects of new entities are immediately transtioned, while other activities lag behind | 39% |
| | New entities are typically allowed a standard transition period before integration occurs | 33% |
| | Other (Please Comment) | 0% |
| | We have not had any recent M&A activity | 11% |