Poll Title:
The Role of Shared Services Culture in Employee Performance and Retention
Background: One advantage of the Shared Services design is that it allows leaders to develop a culture that is unique to the organization that often encompasses such tenets as continuous improvement, customer satisfaction, process quality, and rapid decision making, to name just a few. Creating and maintaining this unique culture requires constant attention and effort by the leadership or the Shared Services operation is at risk of becoming just another "corporate" function. This poll looks at the type of Shared Services culture existing at companies and the influence culture has on employee performance and retention.
Poll Question:
Which response best describes the culture within your Shared Services organization?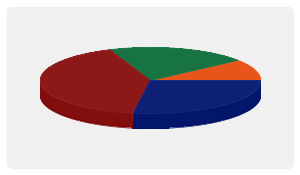 Vote Now
| | | |
| --- | --- | --- |
| | Very similar to the overall corporate culture | 28% |
| | Distinct shared services culture modeled by strong Shared Services leaders | 41% |
| | Modeled on corporate culture, but improved | 21% |
| | Culture is still being formed | 10% |
| | Other (please comment) | 0% |
| | Not Applicable | 0% |