Poll Title:
Performance Measurement in HR Shared Services
Background: While individual process areas often have very detailed performance measurements related to cost, productivity, quality, and customer service, many times the overall HR Shared Services operation struggles to present its results in a concise and effective manner. This poll looks at the type of performance reporting being utilized in HR and how often its design and measures are updated.
Poll Question:
What best describes your current HR/HR Shared Services performance reporting package for key stakeholders and internal customers?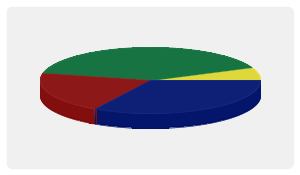 Vote Now
| | | |
| --- | --- | --- |
| | Balanced scorecard that provides a mix of measures each compared to a target value within a single concise report | 33% |
| | Formal dashboard that provides a good mix of measures, but not as robust as a balanced scorecard | 20% |
| | Variety of measures from major process areas in a fairly unstructured format | 40% |
| | Other (Please Comment) | 0% |
| | We currently do not have a performance reporting package | 7% |