Poll Title:
Using Artificial Intelligence (AI) to Reduce Bad-Debt Write-Offs
Background: While our company is actively utilizing Robotic Process Automation (RPA) technology, we are just starting our AI journey. We a have a large number of low dollar write-offs and believe that AI may be able to help us review a large number of smaller accounts to lower write-off dollars. We would appreciate hearing what vendors other major companies work with or have worked with in the past and their related satisfaction levels.
Poll Question:
What is the status at your company in utilizing Artificial Intelligence technology to reduce bad-debt write-offs?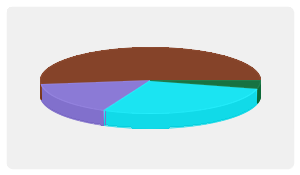 Vote Now
| | | |
| --- | --- | --- |
| | Implemented - Significant improvements | 0% |
| | Implemented - Limited improvements | 0% |
| | Implemented - Too early to tell | 4% |
| | Approved, not yet implemented | 0% |
| | Tried, implementation not successful | 0% |
| | Currently evaluating | 28% |
| | Evaluated and denied | 0% |
| | Not evaluated - Plan on doing so | 16% |
| | Not evaluated - No plans | 52% |