On Thursday, September 19, 2013, The Sherwin Williams Company hosted a Peeriosity Senior Executive Forum at their corporate offices in Cleveland, Ohio with attendance restricted to the senior-most leaders of Shared Services at Peeriosity member companies.  Twenty-three executives attended, with almost everyone also attending a reception on Wednesday evening at Progressive Field (home of the Cleveland Indians), in a private area overlooking the field.
Peeriosity Senior Executive Forums are exclusively for senior shared service leaders, with the theme selected by the host and specific topics selected by, and featuring, attending member company representatives.   Using a U-shape layout for the meeting space, sessions are highly interactive, facilitated exchanges with all attendees prepared to ask questions and share their perspective.  Rather than fixed times to start and close the meeting, discussions are allowed to flow as the energy of the group dictates.  Similar to all Peeriosity interactions, vendors and consultants are prohibited from attending or having access to attendee details or discussion content.
Future Senior Executive Forum hosts include Celanese Corporation (Dallas), BP (Chicago), and MGM Resorts International (Las Vegas).
Theme:  Leveraging Shared Services – Expanding Scope and the Challenges of Integration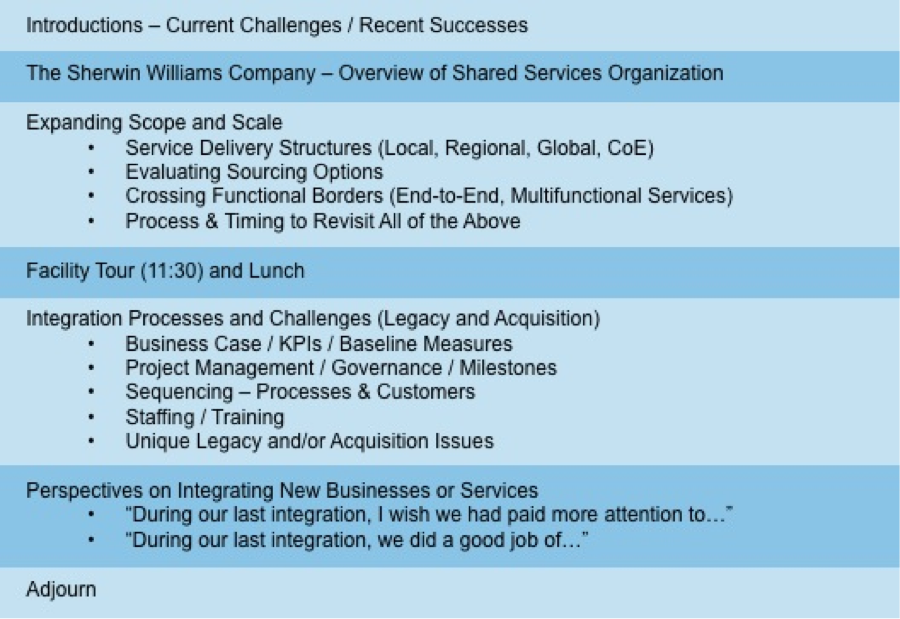 Discussion highlights included:
Navigating cross-functional boundaries when implementing a global end-to-end process for Purchase-to-Pay.
Realizing the Shared Services vision to be a "global business partner", delivering the highest level of performance and service.
Running Shared Services like a business, and what that actually means.
Defining value after you first identify who the customer is; by understanding the competing requirements of end users (consumers of services), Finance and Accounting leaders (with fiduciary responsibilities) and Stakeholders (who provide funding).
Governance and leadership models and the importance of having marketing and sales skills within Shared Services to properly educate and inform internal constituents.
Trade-offs between outsourced and captive models.
The conversation continues in the Senior Executive research area within the Peeriosity website which features a section for the documents associated with in-person Forums, as well as iPolling, Peercasts, and shared documents exclusive for executives.
Who are your peers and how are you collaborating with them?
Peeriosity members are invited to login to www.peeriosity.com/shared-services/ to join the discussion and connect with Peers.   Membership is for practitioners only, with no consultants or vendors permitted.  To learn more about Peeriosity click here.